Wednesday 1 February 2023
Sustainable Finance: AF rethinks SPTs, Wizz Air and Pegasus debut sust-linked deals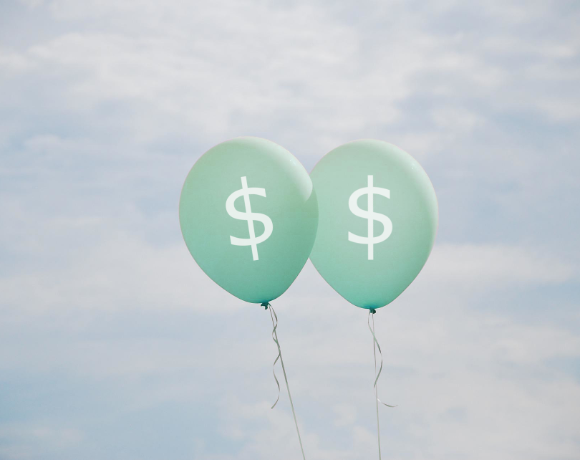 Three new sustainability-linked deals involving aircraft and airlines were announced since the end of December, auguring another busy year of growth and innovation for sustainability features in aviation transactions.
Turkish carrier Pegasus Airlines closed the financing of 10 Airbus A321neos with a sustainability-linked structure, Wizz Air announced that financing for three aircraft was closed in the last quarter of the year via a JOLCO with sustainability-linked debt, and Air France returned to the capital markets with €1 billion ($1.08 billion) in sustainability-linked bonds based on a new sustainability-linked financing framework.
Two main themes come to the fore: An expanding pool of airlines are now availing themselves of this type of financing (to Ishka's knowledge, these are Pegasus and Wizz Air's first sustainable finance transactions), and an important re-think of sustainability performance targets (SPTs) for Air France. The French airline had until recently made sustainable aviation fuel (SAF) use and fleet renewal its main SPTs, but it is now shifting to emission intensity targets under a new Science Based Targets initiative-approved (SBTi) framework.
Separately, Chinese lessor Bocom Leasing has returned to the market with a sustainable bond issuance. As far as Ishka is aware, Bocom Leasing, which has investments in asset classes beyond aviation, remains the only leasing entity with aircraft assets to have issued sustainable debt.
Newcomers: Wizz and Pegasus
Wizz Air on 26th January announced it had closed the financing for three aircraft with sustainability-linked structures during the quarter ending 31st December 2022. Wizz Air CFO Ian Malin said during an earnings call that the airline had "closed a JOLCO that had a debt element to it tied to sustainability." "The more sustainable we can be, the lower interest rate we benefit from," Malin explained, adding that "features like that" are helping Wizz continue to drive down its overall cost of debt. The airline did not unveil any further details nor the specific aircraft financed, but the airline only has Airbus A320neo Family on order with the vast majority being A321neos.
Pegasus Airlines on 22nd December 2022 announced the closing of its first sustainability-linked loan for a UK Export Finance-supported (UKEF) financing of ten Airbus A321neos aircraft. It is the first sustainability-linked deal applied to financings with an export credit guarantee, the largest aircraft-secured sustainability-linked term loan executed in the market to date, and the first to be verified by a Second Party Opinion.
The terms of the financing are indexed on Pegasus Airlines' future achievements in respect of two sustainability-linked Key Performance Indicators (KPIs): carbon intensity of flights and gender diversity in management positions. The airline did not provide specifics on the targets, only saying it has set itself "ambitious" carbon intensity reduction targets by 2030 and to increase the share of women in management "over the same period." In 2019, the airline signed up for IATA's '25by2025' gender balance pledge to improve female representation in senior or under-represented roles in the industry by 25%, or up to a minimum of 25% by 2025.
The KPIs are part of the airline's Sustainability-Linked Financing Framework which it says has obtained a Second Party Opinion confirming its alignment with the Loan Market Association's Sustainability-Linked Loan Principles (SLLP).
Societe Generale acted as global arranger, sustainability structurer, facility agent and security trustee in the transaction. The French bank previously arranged the first-ever sustainability-linked aircraft-secured term loan provided to an airline – Air France-KLM in early 2022 for one Airbus A350-900 (see Insight: 'Aviation sustainable finance firsts: A fund, a secured loan, and an operating lease'). As for UKEF, the UK state guarantor previously provided two debt facilities with sustainability features to British Airways during the Covid-19 pandemic.
Air France bonds steer airline toward new SPTs
Air France-KLM on 9th January announced the successful issuance of an inaugural €1 billion ($1.08 billion) in sustainability-linked bonds: a €500 million bond with a 3.3-year maturity (May 2026) and a coupon of 7.250%; and a €500 million bond with a 5.3-year maturity (May 2028) and a coupon of 8.125%. The airline said the offer, the first Euro sustainability-linked bond in the airline sector, attracted strong investor interest and was 2.6 times oversubscribed.
The coupons will be indexed on the airline group's target to reduce its well-to-wake scope 1 and 3 jet fuel greenhouse gas (GHG) emissions by 10% per revenue tonne kilometer (RTK) by 2025 compared to 2019. The targets are based on a new Sustainability-Linked Financing Framework unveiled in December 2022 based on SBTi-approved 2030 objectives. A step-up or premium trigger event will occur if Air France-KLM fails to reduce, by the target observation date of 31st December 2025, its gCO2e/RTK by 10% versus the 2019 baseline. For the three-year bond that's a 75bps per annum step-up and a 37.5bps for the five-year bond.
The new framework is "globally applicable" for "all potential sustainability-linked financing instruments" to be issued by Air France-KLM, suggesting future sustainability-linked transactions by the group may no longer focus on SAF use and fleet renewal targets. Instead, the framework proposes a focus "on the most material" KPI of the sector: GHG emissions intensity (tCO2 /RTK).
The framework was given an SQS2 "Very good" score by Secondary Party Opinion provider Moody's Investor Service which judged it to have a "significant" contribution to sustainability. Proceeds from the bonds will be used to partially redeem the outstanding bank loan guaranteed by the French State issued in May 2020 (see Insight: 'Covid-19 bailouts: Big week for big European airlines (1st May)').
Natixis acted as the sole sustainability-linked structuring advisor. Global coordinators and joint bookrunners in the deal are Deutsche Bank, HSBC, Natixis, and Societe Generale Corporate & Investment Banking. Crédit Agricole CIB also acted as a joint bookrunner.
Bocom Leasing issues 'sustainable' bond
Chinese leasing platform Bank of Communications Financial Leasing Co. Ltd (Bocom Leasing) in mid-December completed the issuance of CNY2.4 billion ($355 million) in 2.9% coupon "sustainable bonds" due 2025. The notes became listed on 16th December 2022 on the Chongwa (Macao) Financial Asset Exchange, according to a Bocom Leasing filing.
Bocom Leasing as of mid-2022 owned or managed 269 aircraft in addition to assets in shipping and traditional leasing in other industries. The lessor said in an offering circular on 8th December 2022 that proceeds from the bond would be used for Eligible Green Projects which included clean transportation (described as investments and expenditure in "low energy consuming" or "low emission" transportation assets, among others). It is unclear whether aircraft would be an eligible project.
The issuance was made via the lessor's Hong Kong funding subsidiary Bocom Leasing Management Hong Kong Company Limited, with Bank of Communications acting as global advisor and joint global coordinator, joint lead manager and joint bookrunner together with BOCOM International, China International Capital Corporation, and China Industrial Securities International. CMBC Capital also acted as joint bookrunner and joint lead manager.
The issuance follows a circa $500 million three-year sustainability bond on 18th June 2021 by the same Bocom Leasing funding subsidiary. According to Climate Bonds, the 2021 issuance was Bocom Leasing's first sustainable bond.
Download the updated data sheet
For a complete list of sustainable finance deals to date, visit the Ishka Insights Data Library or download the latest sustainable finance data sheet by clicking on the image below: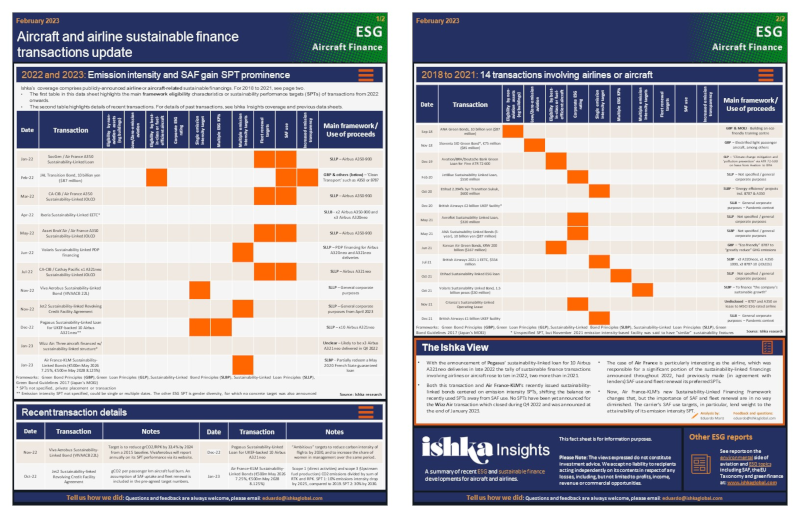 The Ishka View
With the announcement of Pegasus' sustainability-linked loan for 10 Airbus A321neos deliveries in late 2022 the tally of sustainable finance transactions involving airlines or aircraft rose to ten in 2022, two more than the eight in 2021. Both this transaction and Air France's recently issued sustainability-linked bonds centered on emission intensity SPTs. The case of Air France is particularly interesting as the airline, which was responsible for a significant portion of the sustainability-linked financings announced throughout 2022, had previously made (in agreement with lenders) SAF use and fleet renewal its preferred SPTs. Now, its newly unveiled Sustainability-Linked Financing Framework changes that, but the importance of SAF and fleet renewal are in no way diminished. The two 'levers' are key to Air France reducing its emission intensity and its SAF use targets in particular lend weight to the attainability of the latest SPT.