Will US Ex-Im be fully online at the end of the month?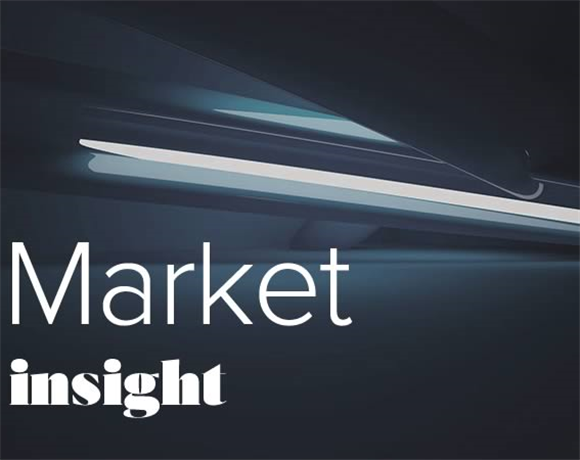 The Export-Import Bank of the United States (US Ex-Im) could be free to approve guarantees over $10 million by the end of the month if Congress approves a stop-gap financing amendment that will allow the bank to legally function with only two board members rather than a full quorum of five, or a working board of three.
The Ishka view is that this is the last opportunity to resolve the impasse surrounding US Ex-Im before the US Presidential elections in November and is only likely to grant the bank temporary powers to approve deals. The bank's supporters have succeeded in attaching the new US Ex-Im amendment on to a key piece of legislation that will almost certainly be needed to pass in order to allow the US government to function. As a result US Ex-Im has a strong chance of being able to do deals again, however there is still the risk that Republicans may attempt to remove the amendment over the next two weeks. Even if the amendment remains the long-term future of the bank continues to be uncertain.

Continuing Irresolution
US Ex-Im has been effectively off-line since April 2016 due to continuing political dispute between right-wing US Republicans who view the bank's ability to insure US exporters as "corporate welfare" for large businesses like Boeing and General Electric, and the bank's supporters who see the bank as a vital tool in assisting US exporters overseas. After a 16-month shutdown following the expiry of its Charter, the US Ex-Im bank was reauthorized in December 2015 with a super majority in Congress.
Despite having a new mandate till 2019 one Senator has managed to prevent the bank from being able to operate normally. Senate Banking Committee Chairman, Richard Shelby, has refused to take action on the nomination of Mark McWatters, a Republican to the board of US Ex-Im. This has left the bank without a full quorum of board members. Under current law, at least three members are needed on the five-member board for the agency to approve loans of more than $10 million, something that rules out almost all aircraft deals.
US Ex-Im's supporters have turned to a legislative measure called a Continuing Resolution (CR) as a way of breaking the deadlock. A CR is essentially a stop-gap measure to maintain funding at 2016 levels until a full budget can be agreed on.
On 29 August, The White House Office of Management and Budget submitted a list of requested policy provisions called anomalies to a Continuing Resolution in Congress that would fund the federal government for several months after the 2017 fiscal year begins on 1 October.
The aim of the anomaly is to re-open the US Ex-Im for large deals without waiting for a full quorum to be approved by the Senate Banking Committee. If approved US Ex-Im will be temporarily able to approve large aircraft deals without a full quorum (until a third board member is appointed). But the CR must be enacted by the end of the Fiscal year 2016 if a government shutdown is to be avoided. This increases the possibility of partisan-political brinksmanship over which anomalies are included in or dropped from the bill.
US Ex-Im's short-term future depends on the terms of the CR as lawmakers are horse-trading on a number of amendments of which US Ex-Im is just one. Moreover, Democrats and Republicans are split on how long the CR should be enacted for. Some Republicans want it to end in December. This would allow the Republican-controlled House time to pass the relevant funding measures and kill the US Ex-Im amendment before the next Congress – possibly controlled by Democrats – starts its term. Much depends on which party controls the House of Representatives after the Congressional elections in November.

Lobbyists have been unable to break the deadlock
In what is essentially a political dispute, the bank's Tea-Party detractors oppose US Ex-Im as an example of corporate welfare and have given US Ex-Im the sobriquet: "Boeing's Bank." The majority (98%) of the bank's loans are below $10 million and go to small businesses, in 2014 and 2015 loans needing board approval accounted for two-thirds of US Ex-Im's transactions in value terms. Because of the high export-value of their products Boeing and General Electric are among the biggest beneficiaries of the bank.
Boeing for its part has been very clear about the effect the shutdown, and quorum stand-off, is having on its business and has stepped up its lobbying efforts. In fact, in 2015 Boeing spent $22 million on lobbying, more than any other year going back 17 years. General Electric followed suit with $21 million on lobbying. This represents a respective rise of 37% and 38% on 2014 levels.
Lobbyists kick-started the move to insert language in the CR bill that would allow US Ex-Im to operate normally without a full quorum. Similar language is already in the State Department and Foreign Operations Bill. But on 8 September, the National Association of Manufacturers and the US Chamber of Commerce wrote to Congress to urge them to extend this to the Continuing Resolution. In the meantime, Boeing has been rescinding donations to politicians who supported the shutdown.
However, as one source told Ishka: "For supporters of the bank there is no Plan-B." This extends to the bank itself. Only two blocks away from the White House, it is powerless to intervene in a political dispute over its own fate. If the Continuing Resolution is not passed, then it will have to wait for the outcome of the US Presidential election in November.

Impact of the shut down
Over the course of the last 12 months, around 30 transactions worth more $20 billion have become stuck in the back offices of US Ex-Im- unable to be approved because of the lack of board members. Though the bank continues to receive and process applications, it cannot approve any in excess of $10 million. There have been no new aircraft deals since April. The last aircraft financing approved by the bank was a $30 million Sun Express deal which closed in April 2016.
Without ECA cover, some emerging market airlines in particular are finding it difficult to fund Boeing purchases. In June this year, Ethiopian Airlines wrote to Boeing explaining that the lack of Ex-Im financing threatened its ability to purchase Boeing aircraft in the future. General Electric has wasted no time in moving some of its manufacturing operations abroad where it can make use of foreign ECA support. And Boeing is working with UK Export Finance to fund aircraft purchases, for as yet unnamed customer, on the condition that it uses Rolls-Royce engines.
In a note, as part of its most recent financial results, Boeing highlighted that it may directly fund purchases in the absence of ECA support: "We may fund additional commitments and/or enter into new financing arrangements with customers. Certain of our non-US customers also may seek to delay purchases if they cannot obtain financing at reasonable costs, and there may be further impacts with respect to future sales campaigns involving non-US customers."

US Ex-Im financing: less attractive than it has been
As indicated by the graph below, Boeing has been less reliant on ECA financing than Airbus over the last two years. This shows that that while the aviation financing market remains thoroughly liquid, ECA financing has been a less attractive option which has blunted the full effect of the shutdown. Although export credit does remain useful for wide body aircraft purchases such as the B787-9.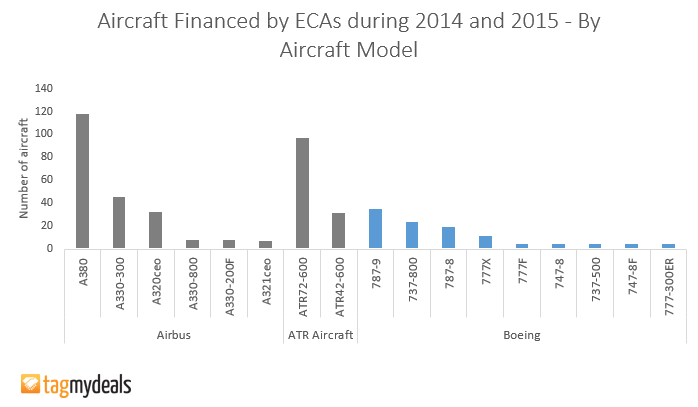 One effect of the shutdown has been to push some airlines who would have used export credit into the arms of lessors who spy opportunities in the continuing uncertainty on both sides of the Atlantic,
In a recent earnings call, Air Lease Corporation's CFO, Greg Willis, stated: "We are seeing actual transactions that we've now completed where historically those airlines have relied heavily on export credit financing. I can point to a recent event on 787s with an airline that normally would have utilized export credits." Willis also cited deals with an Asian national carrier that has previously used ECA financing for a 737 MAX order and another narrow body deal in Eastern Europe.
Furthermore, the cost of ECA financing has been driven up by the OECD's 2011 Aircraft Sector Understanding which revised the minimum premium rates participants can offer for export credit. Notwithstanding the congressional stand-off, the unattractiveness of ECA funding combined with a low interest rate environment, and tight credit spreads means that only 9% of Boeings sales for 2016 are predicted to make use of export credit by the year end.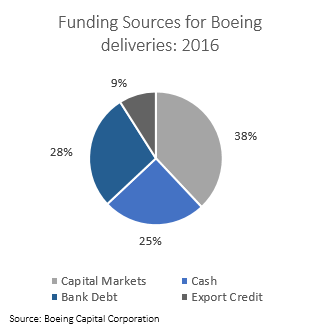 Scenarios
What if the Continuing Resolution is not passed by 30 September? A failure to pass a CR would mean that the US Ex-Im Bank would remain unable to approve deals larger than $10 million in value. A similar CR has been used in the last two Presidential-election years, they are vital if a complete government shutdown, such as the one in 2013, is to be avoided. If lawmakers cannot reach a deal, the only remaining option for supporters of the bank would be to wait for the result of the US Presidential elections in November. In response, the market will have to explore various alternatives which could include a greater use of private insurers amongst others. Alternatively, if a CR were approved by both Houses, expect a flood of newly minted aviation deals that had been held in limbo for months to be approved. However, a Continuing Resolution is only a temporary measure that will fund the US government until December or March at the latest. US Ex-Im may have to wait until the next President takes office on 20 January 2017, for a longer-term solution. Though this is no guarantee that the obstructive senator will have changed his mind by then.

The Ishka View
Abundant sources of financing have blunted the impact of the US Ex-Im shutdown. For the time being only a handful of airlines have been affected. However, the real test will come when the market begins to turn and ECA financing becomes vital for some customers. There is the potential for this to drag on into the New Year. Much depends on whether lawmakers can agree on a deal before the end of the month. Given the past history of government shut downs, any optimism that the issue will be resolved must be guarded. In a political dispute that is ideological at root there is little room for lawmakers to manoeuvre. And with the deadline looming so close the US Ex-Im amendment could be dropped which would leave the bank in its present impasse until after the US elections.
What is the impact for airlines?
A handful of airlines have agreed bridge financing with banks to fund their aircraft deliveries and will be seeking to refinance these loans with ECA cover. If US Ex-Im only gains temporary powers there is likely to be a rush of deals as airlines and banks ensure they do no miss what may be a temporary window of opportunity to receive US Ex-Im guarantees.
What is the impact for lessors?
Lessors could stand to benefit from the continued shutdown. Aircastle's CEO, Ron Wainshal, in a recent earnings call said: "We recently agreed to acquire and lease back two new A321s with an Asian airline, which had originally intended to finance them with export credit agency debt. The shutdown of ECA availability presented an opportunity and we seized on it."
More related insights: