Aircastle's results overshadowed by Avianca Brazil concerns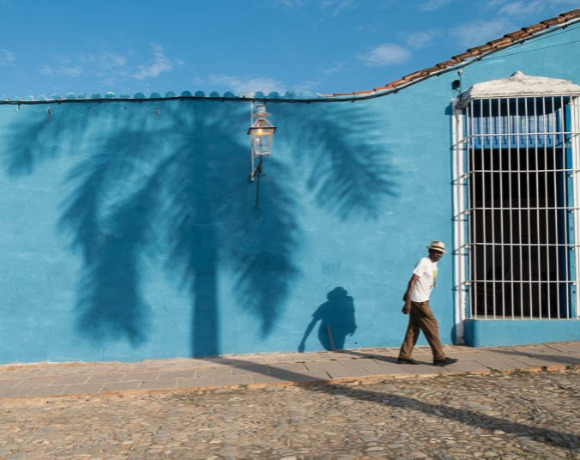 Aircastle's mostly positive results for the full year 2018 were overshadowed by the ongoing concerns for the fate of the lessor's aircraft operated by Avianca Brazil. The carrier has refused to return 10 A320 family aircraft despite Aircastle's repeated attempts to repossess them following an extended—albeit unspecified—period of non-payment of lease rents. Earlier in the year, a Brazilian judge extended the stay on repossession until mid-April, in what is shaping up to be an unexpected test of the willingness of the country's bankruptcy courts to comply with provisions of the Cape Town Convention, to which Brazil is a signatory.
Despite the negative impact of the Avianca Brazil situation on lease rental yields and net interest spread, Aircastle posted improvement across many headline metrics. The lessor's asset base grew by ca. 10% as the book value of fleet increased on the back of fleet expansion (248 owned aircraft at year-end 2018 versus 224 the year prior). Lease rents for FY2018 remained largely static, reflecting loss of revenue from Avianca Brazil, while total revenues went up by 4.53% as the lessor recognized $93 million in maintenance revenue from the early termination of the Avianca Brazil aircraft. Net interest margin inched down to 7.8%, below Aircastle's target and long-time average of 8%. The capital structure remained conservative and in line with historically low leverage (2.3x vs 2.2x the year prior) and large proportion of unsecured debt (83% vs 80%).
Aircastle's trading activity in 2018 was somewhat subdued in comparison with 2017. The lessor continued to take advantage of the favourable trading environment, selling 14 aircraft during 2018 with an average age of 11 years, and generated $36.8 gain on sale, equivalent to a ca. 11% premium. However, both the volume and gains on sale were lower in absolute terms than the year prior—14 sales vs 37 sales as at year end 2017. Aircastle's acquisition volumes were also lower—39 aircraft vs 68 in 2017. All purchases were narrowbodies, in line with the lessor's de-risking strategy in recent years, bringing the total share of narrowbodies in the fleet to 72%. Fleet utilization dipped in Q4 to 97% due to the Avianca Brazil events, below the 99.6% average for the year. The lessor expects utilization to rebound as soon as the Avianca Brazil aircraft are retrieved and placed on replacement leases.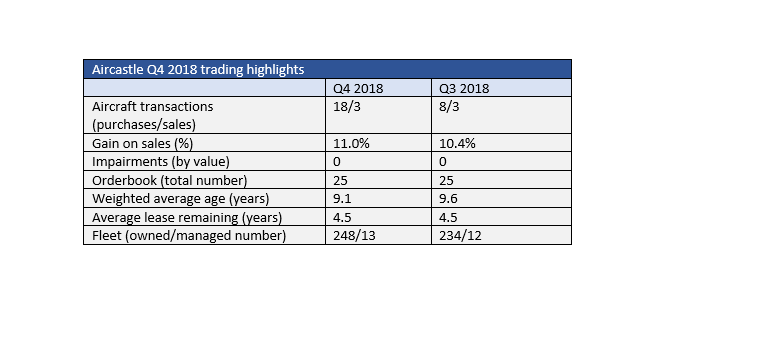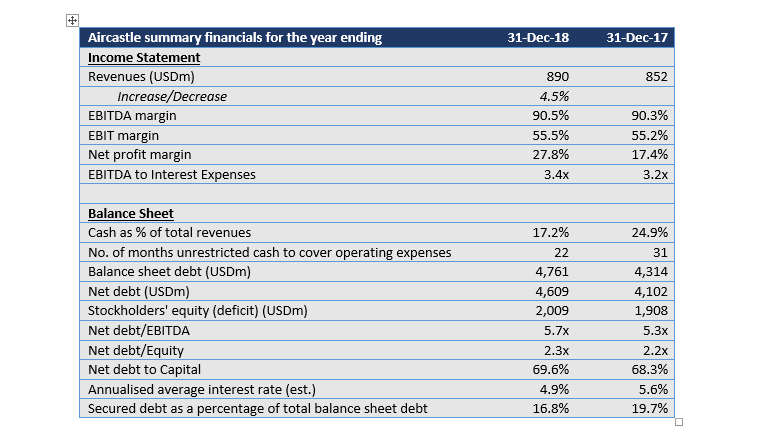 Source: Ishka calculations and SEC Fillings
In order to maintain consistency across all our lessor reports, we base our analysis on a standard financial template. As such, some numbers may vary from the lessor reported figures. E.g. we include gain/(loss) on aircraft sales in total revenues. To know more about our methodology, get in touch at [email protected] or ask the analyst.

The Ishka View

Before the bankruptcy court's ruling, BOC Aviation was able to repossess two A320-200neos (MSN 8086 and 7918), Infinity Transportation one A320-200ceo (MSN 6651) and Aircastle one A330-200 (MSN 1492) leased to Avianca Brazil. That left Aircastle and GECAS—another lessor with 8 aircraft in Avianca Brazil's fleet—to continue the legal battle for the release of their respective assets. Observers and legal experts have expressed surprise at the course of the proceedings, noting that Brazilian courts have generally been consistent in enforcing creditor rights in bankruptcy scenarios.
On February 19, a local court lifted the stay on repossessions, but Avianca Brazil might still appeal the latest ruling to a higher court. It is unclear how long it may take for the judicial process to play out, but it appears likely that the courts will ultimately side with the lessors and rule to enforce the application of the Cape Town Convention. Once Aircastle succeeds in removing its aircraft from Brazil, they should be able to remarket them immediately given the market interest in A320s, although the lease rates should be expected to be lower than those originally paid by Avianca Brazil.
In finance, uncertainty, as always, is equivalent to risk, so the Avianca Brazil situation—whenever and however it gets resolved—will very likely create a knock-on effect on future pricing for other Brazilian carriers with leased fleets.