Shared patterns: An analysis of 737s grounded over pickle forks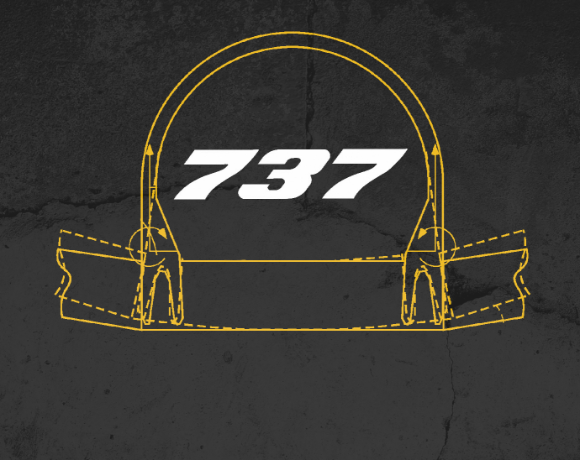 Update: On 13th November the FAA superseded AD 2019-20-02 with AD 2019-22-10, expanding the inspection criteria from an area around two fasteners to an area around eight fasteners on both the left- and right-hand sides (which includes the area around the two fasteners inspected as required by AD 2019-20-02); and also requires repair if any cracking is found. The criteria for aircraft requiring inspection has not changed.
Up to 50 Boeing 737 NGs have been grounded so far worldwide over 'pickle fork' hairline cracks since late September, when the issue was first reported. Ishka has identified 37 aircraft it believes have been affected, including some low-cycle jets not prioritised by the FAA's Airworthiness Directive (AD) on the issue (reference number 2019-20-02).
Fatigue cracking on pickle forks – four parts stretching around 25% of the circumference of the fuselage near the wings – is not supposed to happen. The parts are designed to last the lifespan of the aircraft or around 90,000 cycles. However, fractures have been found on aircraft substantially below that.
Ishka's list of 37 aircraft (a mix of jets ferried for repairs or grounded in circumstances consistent with news reports of affected airlines) contains 21 with Line Numbers between 944 and 1,237, suggesting a possible higher incidence among certain production blocks.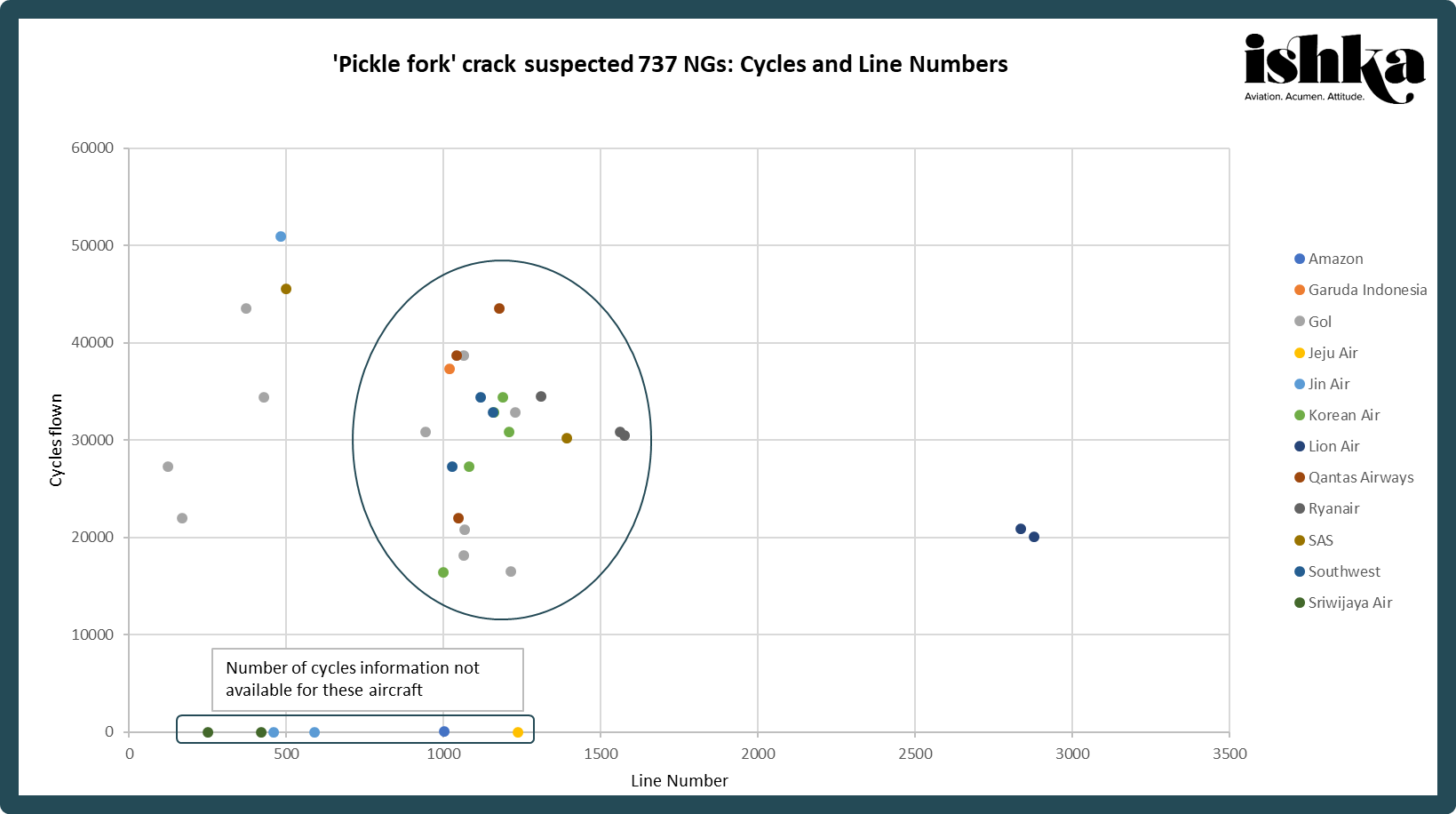 Source: CAPA Fleets, Ishka research
Click here to download the data behind the chart.
Over 1,000 checked
In a statement sent to Ishka on 11th November, Boeing said "just over 1,000 airplanes have reached the inspection threshold, with less than 5% having findings that will need repair." This amounts to up to 50 aircraft affected needing repair. Boeing did not provide a list of customers impacted, but news reports up until 11th November verified by Ishka indicate that 13 operators have been affected.
"Boeing has provided all 737 NG customers detailed instructions for conducting the inspections and reporting the results," the OEM said, adding that it is "actively working with customers" that have affected airplanes to develop a repair plan, and to provide parts and technical support as necessary.
"This issue does not affect any 737 MAX airplanes or the P-8 [military aircraft]," Boeing reiterated.
Progress of inspections
The "just over 1,000 airplanes" reaching inspection threshold should, theoretically, include all active 737 NGs above 30,000 cycles and a number of aircraft with 22,600 to 29,999 cycles. The FAA's AD issued on 3rd October mandated the latter be checked within seven days (or by 10th October), while the second group of aircraft will need to be checked within 1,000 cycles of the AD's issuance.

Source: FAA, Ishka research
Ishka believes that the 1,000 aircraft inspected so far are around half of all the aircraft covered by the AD in first instance (the AD also requires repeat inspections thereafter "at intervals not to exceed 3,500 flight cycles"). As the table above illustrates, depending on the number of cycles flown per day by operators, the deadline for initial inspections of aircraft with 22,600 to 29,999 cycles at AD issuance could fall sometime between February to June 2020.
Younger aircraft
Pickle forks are designed to last the lifespan of the aircraft or around 90,000 cycles. However, fractures have been found on aircraft substantially below that: the initial were just past the 30,000-cycle mark, a growing number are below 30,000 cycles and some, such as Lion Air's two affected aircraft, are below 22,000 cycles.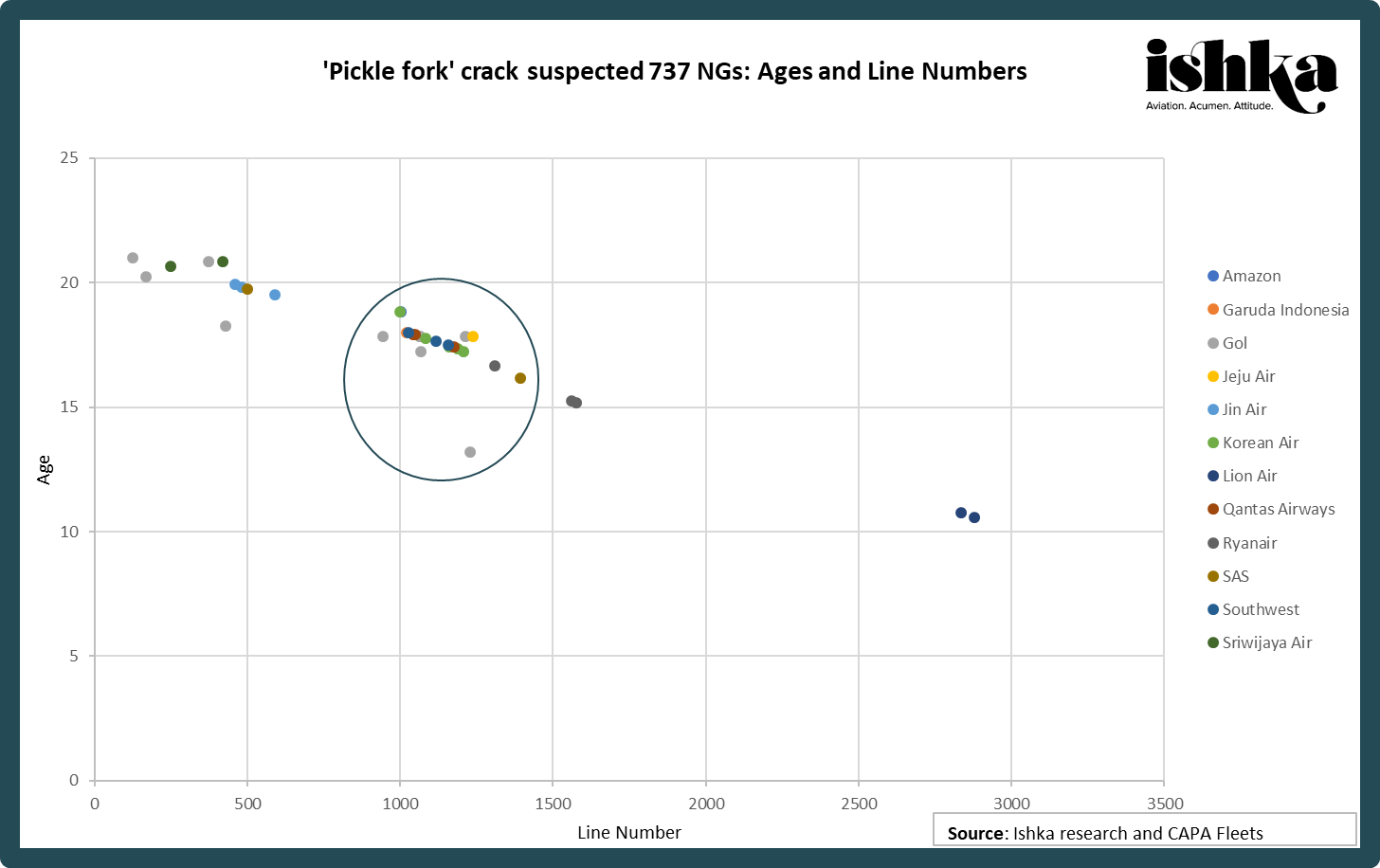 Source: CAPA Fleets, Ishka research
Click here to download the data behind the chart.
The Lion Air aircraft identified by Ishka are as young as 10 years in age, while some in GOL's fleet could be, based on CAPA Fleets data, also below 22,000 cycles – including a 13-year-old.
Airline reactions
Only five of the affected airlines had responded to Ishka's request for comment by publication on 12th November. GOL was not yet able to confirm Ishka's findings. Korean Air could not verify individual serial numbers or registrations but confirmed three Jin Air aircraft and five Korean Air aircraft are "under maintenance."
Qantas stated that "those three aircraft have been removed from service and are awaiting repair." SAS was able to confirm that both aircraft in Ishka's list were affected. "SE-REZ will be repaired. However, LN-RPK will not return in traffic, since it was already to be phased out of the SAS fleet in November," head of media relations Freja Annamatz told Ishka.
Southwest Airlines confirmed it had discovered "three [aircraft] with pickle fork cracks, and those aircraft remain out of service awaiting repairs," but could not confirm serial numbers or registrations.
The Ishka View
With around half of the aircraft covered by the FAA's AD already inspected and an incidence rate of around 5%, the 'pickle fork' issue is a costly annoyance for NG operators, but it is still far from the pervasiveness initially feared. For comparison, the 40 to 50 787s simultaneously grounded over Rolls-Royce Trent 1000 issues at various points throughout 2019 represented around 11% to 15% of all Trent 1000-powered 787s in service.
Nevertheless, Ishka finds two concerning factors in the 'pickle forks' saga: some aircraft below 22,600 cycles have developed fatigue cracks (at least two at Lion Air) and the AD has lasting effects – aircraft will need to be checked periodically at intervals not exceeding 3,500 cycles. This means more 737 NGs could be found to be affected beyond the mid-2020 deadline for ongoing inspections. On 12th November, South Korean newspaper The Hankyoreh reported that the Ministry of Land, Infrastructure, and Transport had discovered cracks in a further four aircraft: two from Jeju Air and two from Eastar Jet – Ishka was unable to identify these four aircraft and they were not included in this analysis.
Ishka's analysis points to higher rates among certain production blocks (based on production line numbers), but despite the apparent higher concentration, it is too early to conclude that sub-fleets related to affected aircraft could also be impacted. For instance, following initial reports on cracks on ex-Jet Airways aircraft due for cargo conversion for Amazon, inspections mandated by India's aviation authority, the DGCA, showed no further ex-Jet Airways NGs affected among those still operating in India.