Forecast: 1,001 missing 737 MAXs by year end 2022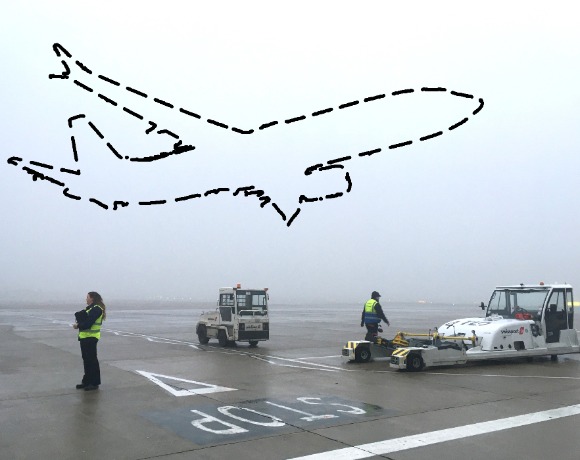 The grounding of the 737 MAX is an unprecedented scenario with over 800 new single-aisle aircraft on the ground. Considering the possible scenarios for the MAX's return to service, Ishka estimates that by the end of 2022, there are likely to be 1,001 fewer MAX aircraft delivered than had been forecast just a year ago.
The current expectation is that the return to service might resume from July 2020, and that production might resume around May. Our estimate today, based on Boeing's recent guidance, is that MAX production would build up slowly over the year. We estimate production could reach 131 new builds by the end of 2020, with another 379 to be built in 2021 and 564 produced in 2022, if all goes well.
Under this scenario, we anticipate that the previously delivered and grounded aircraft (around 385) would all return to service by year-end, while the built but as yet undelivered aircraft (around 450) would deliver over a period of 18 months at an average rate of 25 per month. In all instances, we assume that simulator training is available and enables pilots to be suitably prepared.
Under this scenario, with a more gradual build-up of the production rate, the net effect is that by the end of 2022, there may be 1,001 fewer MAX aircraft delivered than had been anticipated at the start of 2019. This is likely to be a moving target but it does provide some idea of quantum.
2018 represented a period of peak aircraft production for both Airbus and Boeing with just under 1,900 commercial aircraft deliveries, despite some delivery delays. However, 2019 did not live up to expectations: the forecast had been for over 2,000 deliveries, but due to the MAX grounding as well as some A320 family delays, the year ended with a 600+ aircraft delivery shortfall.
As a result, in 2020 we expect to see around 1,600 aircraft deliveries, including 1,500 new aircraft (featuring a record number of Airbus deliveries and 130 new MAX) and another 100 from the existing MAX inventory of built but not delivered aircraft.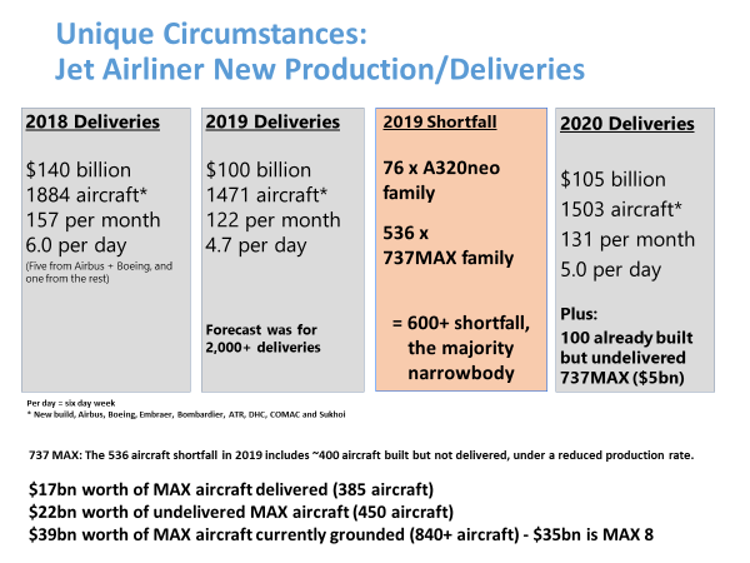 What has this shortfall in MAX deliveries meant for the wider market?

The response from airlines has been varied. Some had to cut back on route and network development, especially where the MAX was going to open routes where the airline didn't have suitable replacement types. Some increased the utilisation of their existing fleets, and others extended the leases on aircraft in their fleets which were scheduled to be returned.
Some have leased in aircraft (the failure of Jet Airways provided some capacity for others to use) however not many have elected to buy or order additional aircraft, as the MAX situation is seen as a short-term issue.
Where the airlines have probably been most affected, has been in their financial performance and the 2019 results will showcase this as they start to come through.
The aircraft market has also seen repercussions - lease rates rose for many used narrowbody aircraft due to this near-term demand (but less so for values). The retirement of some older aircraft has also been delayed, translating into an economic life extension for some.
The Ishka View

Ishka estimates that the 1,001 fewer 737 MAXs would translate into a capex shortfall of approximately $50.5 billion for the aviation finance industry. This, of course, assumes that purchase prices do not materially change, and ignores any escalation, both of which could easily be fluid when the 737 MAX does return.
Currently, there are over 800 new aircraft on the ground. Ishka estimates that they represent $39 billion in total of new technology single-aisle aircraft sitting idle. This is split between approximately $18 billion dollars' worth of aircraft that have been delivered, and grounded for nearly a year, and a further $21 billion-$22 billion dollars' worth of aircraft built over the past year, but not delivered.
As previously argued in earlier Insight reports, Ishka believes that the lack of MAXs has compressed lessors' rates of expected capex for the next three years and as a result yields in sale/leasebacks are likely to suffer as more lessors look to that market for possible expansion (see Insight: Missing MAXs drive Super Sellers' Market),
In addition, funds or leasing platforms looking to acquire leased aircraft may struggle as lessors slow down the rate at which they trade aircraft, in order to maintain revenue resulting in potentially higher purchase prices for those leased aircraft, due to demand and resulting in something Ishka has dubbed the Super Sellers' Market. The 1,000 or so MAX shortfall means Ishka believes the Super Sellers' Market is most likely to feature for at least the next two years.