Boeing cuts output as lessors trim quarter of 737 MAX orders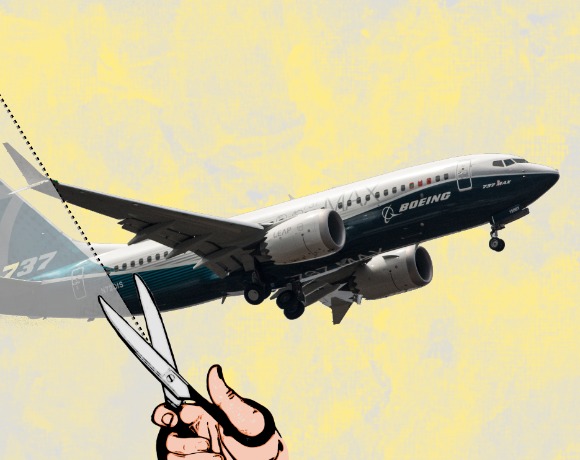 Covid-19 has reduced last year's stream of deliveries to a trickle, forcing OEMs to adjust production rates as they reckon with the new depressed market (for a summary of rate cuts, see Insight: 'Airbus and Boeing Q2: Lessors lead order activity as OEMs cut output'). For Boeing, whose beleaguered 737 MAX accumulated over 460 net cancellations since last year's grounding, this will be particularly acute.
In the space of 18 months, Boeing has gone from planning for a production increase to 57 MAXs per month – and envisioning rates of up to 63 – to slashing output to zero in January and now working towards a "gradual increase" to 31 per month by the beginning of 2022. Based on Boeing's latest projections, Ishka estimates that by the end of 2022 the OEM may only have delivered half as many MAXs as intended pre-grounding.
Meanwhile, MAX cancellations have been creeping up at nearly double the monthly 31-aircraft production target: around 355 737 MAXs were cancelled in 2020 by mid-July, or around 55 per month. Among those, lessors feature heavily: over 23% of their orderbook has been cancelled since the type's grounding in March 2019.
A quarter of lessor MAXs cancelled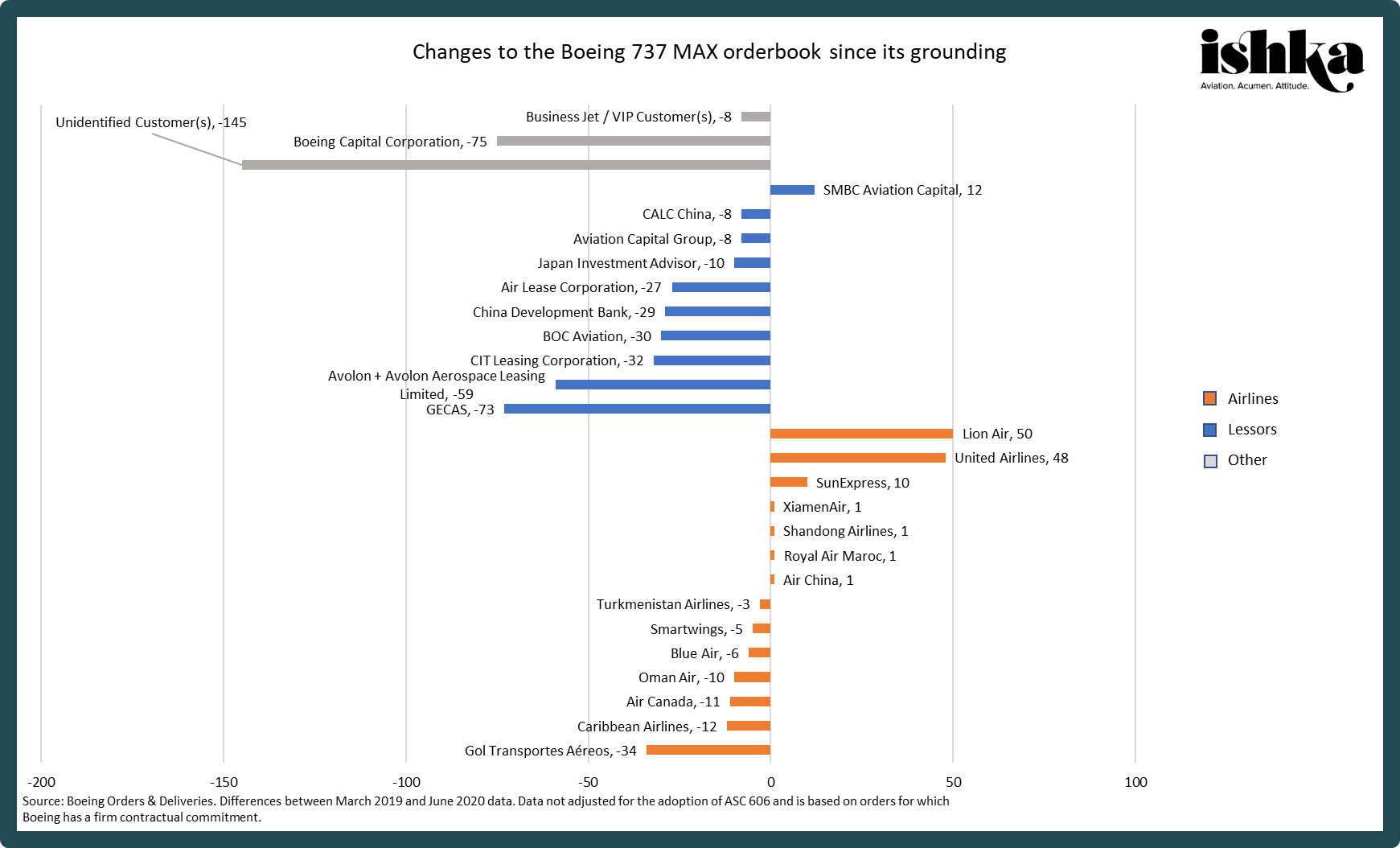 Note: CIT Leasing Corporation was acquired by Avolon in 2017 and is part of Avolon's orderbook.
Click on the image to see a larger version.
Click here to download the data behind the charts.
A comparison of Boeing's list of MAX orders (all with contractual commitment, not adjusted for ASC 606) between March 2019 (the month of the grounding) and June 2020 shows 461 net cancellations, more than half of which (264) correspond to lessors. Over the period, lessors reduced their overall direct MAX orderbook from 1,121 aircraft down to 857 – a 23.55% cut.
Those figures are yet to include cancellations, confirmed or tentative, announced by some customers, including AerCap's cancellation of 15 MAXs announced in late July or Norwegian's cancellation of 92 MAXs announced in late June. Garuda Indonesia's intention to cancel 49 remaining MAX orders is yet to be reflected in Boeing's list of orders, while two other lessors, Kuwaiti ALFACO and Timaero Ireland (a subsidiary of Russia's state-owned VEB Leasing), are suing Boeing to void their deals for 40 and 22 MAXs respectively.
Cancellations are likely to continue as customers lean on contractual clauses for delayed MAX deliveries to re-adjust their fleet requirements. AerCap, for instance, pointed out that the 15 MAXs it has cancelled were all "past their contractual delivery dates."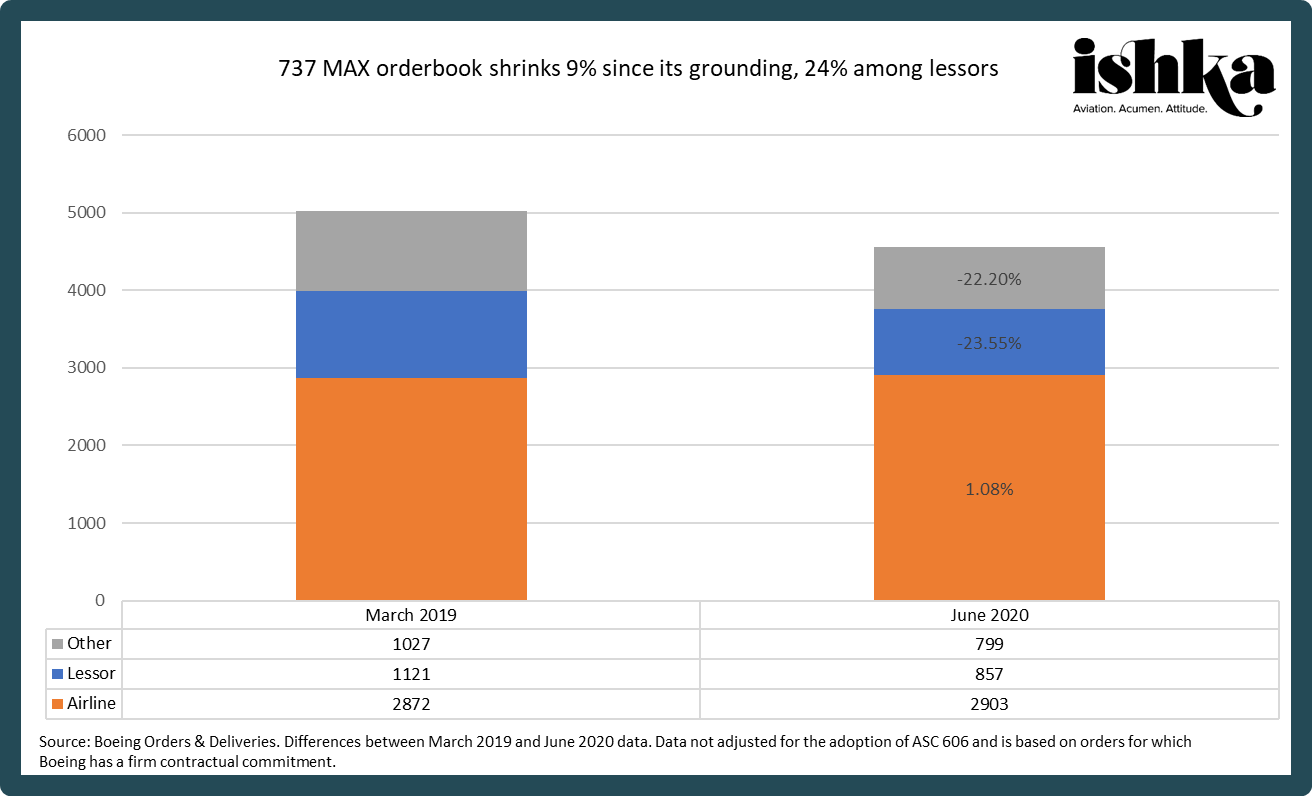 Click on the image to see a larger version.
Click here to download the data behind the charts.
Hitting the production brakes – again
Increasing cancellations and depressed demand for aircraft caused by the global pandemic have forced Boeing to cut, again, the 737 MAX production output. The OEM cut production down to 42 aircraft per month in April 2019 after regulators grounded the type, a rate which it maintained until temporarily shutting down the Renton assembly line in January 2020. After it resumed production in May, Boeing planned for an increase to 31 per month by 2021. Boeing, instead, is now targeting 31 by 2022.
"We've moderated the production rate ramp-up from our prior assumption to reflect detailed ongoing discussions with our customers, as they assess the environment and their fleet requirements," CFO Greg Smith said during the OEM's Q2 earnings call on 29th July. Beyond 2022, Boeing expects further gradual rate increases "to correspond with market demand."
Boeing expects to resume deliveries of the MAX during Q4 2020, after regulatory approvals, and to deliver "the majority" of 450 MAXs in storage during the first year after resumption of deliveries. "This is just based on discussions we're having with customers in sequencing those airplanes out," Smith reassured an analyst. However, the CFO also conceded that many of those 450 aircraft will not go to their originally intended customers.
"We've assessed all 450 and put a risk assessment against all of those aircraft. And then took a provision for that. We believe we will have to either remarket or reconfigure some of those aircraft."
Half as many MAXs by 2022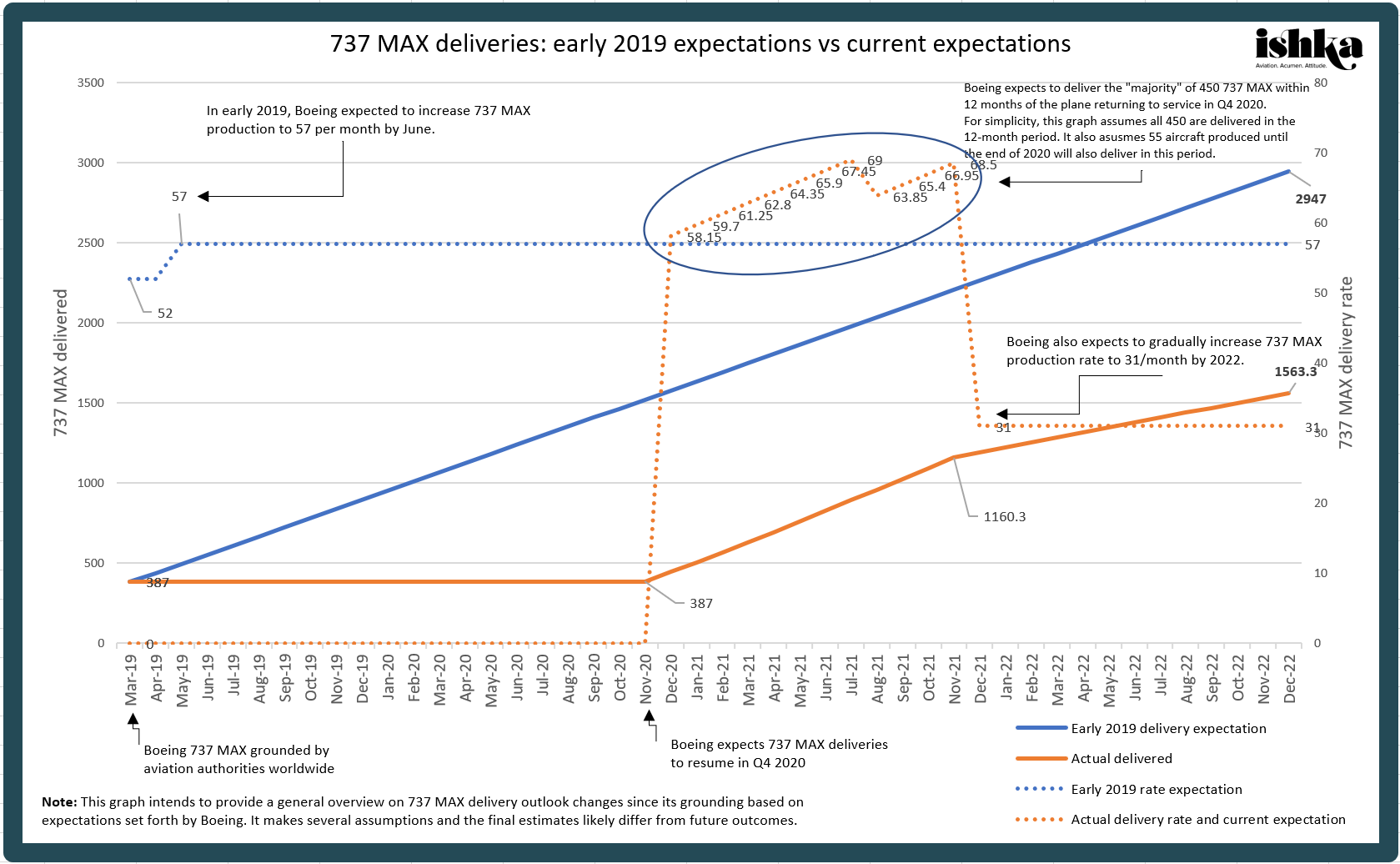 Click on the image to see a larger version.
The graph above shows MAX delivery outlook changes based on current and pre-grounding expectations set forth by Boeing. The graph makes several assumptions and therefore only aims to provide a rough overview.
In a scenario where backlogs are cleared by the end of 2021 and production and deliveries continue at 31 per month through 2022, Boeing would have only delivered half as many MAXs by the end of 2022 than it expected to deliver in early 2019 – a telling measure of how much Boeing's new-technology narrowbody market outlook has changed.
The pace of those deliveries is likely to ultimately differ, however. In the Q2 earnings call, Smith confirmed that the MAX would be produced ahead of deliveries even into the beginning of 2021, suggesting a slow ramp-up of deliveries from Q4 2020. This, together with the expectation of a minority of stored MAXs remaining undelivered and in storage until 2022, should ultimately lead to many aircraft produced this and next year (and even last year) not delivering until 2022.
Nevertheless, if expectations go according to plan, the MAX should outpace deliveries of any other aircraft type through 2021, as the manufacturer clears its backlog.
Lessors react
Twelve out of 17 lessors with direct orders for the 737 MAX have cancelled or are publicly known to be looking to cancel MAX orders, whether full or partially. Lower demand for aircraft in the coming years, and Boeing's inability to deliver to near term schedules, are likely to underpin most of those decisions.
But there is another factor at play: repositioning capital away from aircraft ordered at pre-grounding prices and with imminent delivery dates (many of which may be now unplaced) to purchase and leaseback aircraft of airlines ready to take delivery from Q4 2020. BOC Aviation, for instance, announced in June that it had cancelled 30 737 MAXs from its orderbook but committed to buying MAXs through sale and leasebacks (SLBs) in the near term.
"We have pushed aircraft out to 2024 and 2023 that were initially scheduled for delivery in 2021 and earlier, and replaced that capex with aircraft that either already exist or are manufactured and not yet delivered or are expected to come off production line early next year," Timothy Ross, BOC Aviation's Head of Investor Relations, tells Ishka.
Those aircraft include 16 737-9 MAX with United Airlines announced on 19th April, 10 737-8s with Southwest Airlines on 11th May (according to Southwest, sold for $410 million at a gain of $153 million and to be immediately leased back for 13 years), and more recently, on 2nd August, five 737 MAX 8s with TUI Travel Aviation Finance limited, a subsidiary of Germany's leisure airline holding TUI AG. The Southwest jets are aircraft already delivered to the airline, while the United and TUI jets will be delivered from the end of 2020 and in 2021, respectively. "Those recent purchases and leaseback transactions that we've done are reshaping [BOC Aviation's] delivery recommitments to the MAX program," Ross added.
The Ishka View
Boeing's MAX orderbook has taken a blow in recent months as the reasons have escalated for customers to walk away from purchase commitments. The concentration of those cancellations among lessors reflects changing demand expectations, as many of those were speculative orders placed as far back as 2012, but also signal a shift in the role lessors intend to play in the medium-term. Rather than trying to beat the odds of marketing unplaced MAXs in these uncertain times, lessors like BOC may prefer to work with customers willing to take the aircraft and provide them with financing.
For the type, the past 18 months have marked a dramatic change of fortunes. The MAX has gone from celebrating 5,000 net orders at the start of 2019, to losing hundreds of orders in a matter of months and seeing its production output halved for the foreseeable future – assuming no new hurdles are found in the effort to return it to service. But in all this, there may be a silver lining for the 737 NG. Despite losing the 'MAX grounding premium' in the new market conditions, NG investors can still expect dramatically fewer numbers of MAXs entering the market over the coming years than initially expected. By mid-2022, around 1,000 737 NGs in passenger service today will have crossed the 20-year mark, and based on Boeing's estimates it is possible that just over 1,000 MAXs will have entered the market by then – a relatively modest ratio for a new-technology aircraft replacement.