in Lessors and Lease Rates , Regulatory and Accounting
Monday 22 March 2021


Lessor aircraft impairments up nearly five-fold in 2020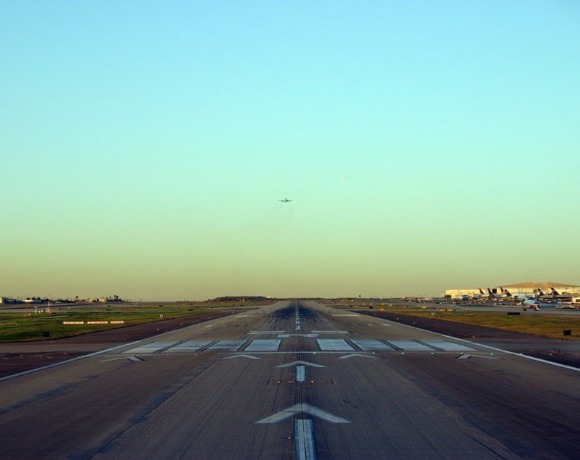 Aircraft impairments recorded by 16 lessors analysed by Ishka totalled $2.7 billion in 2020, a 485% increase from the $461 million recorded by the same lessors in 2019.
Lessors have been forced to recognise impairments on their leased fleet for a variety of reasons ultimately stemming from the Covid -19 pandemic. Several major airlines have filed for bankruptcy protection and have either handed back aircraft to lessors or else reduced rents via restructurings (see Ishka's 'Restructuring Watch' series of Insights). Other airlines have returned aircraft to lessors before the end of their scheduled lease term which has eroded the book value of the aircraft and left lessors with a remarketing challenge. An overhang of available leased aircraft and the combination of many airlines seeking to continue to reduce operations has had a significant impact on aircraft residual values. Ishka's advisory team has reported that aircraft values for some off-lease aircraft types have fallen by as much as a third since the start of the pandemic.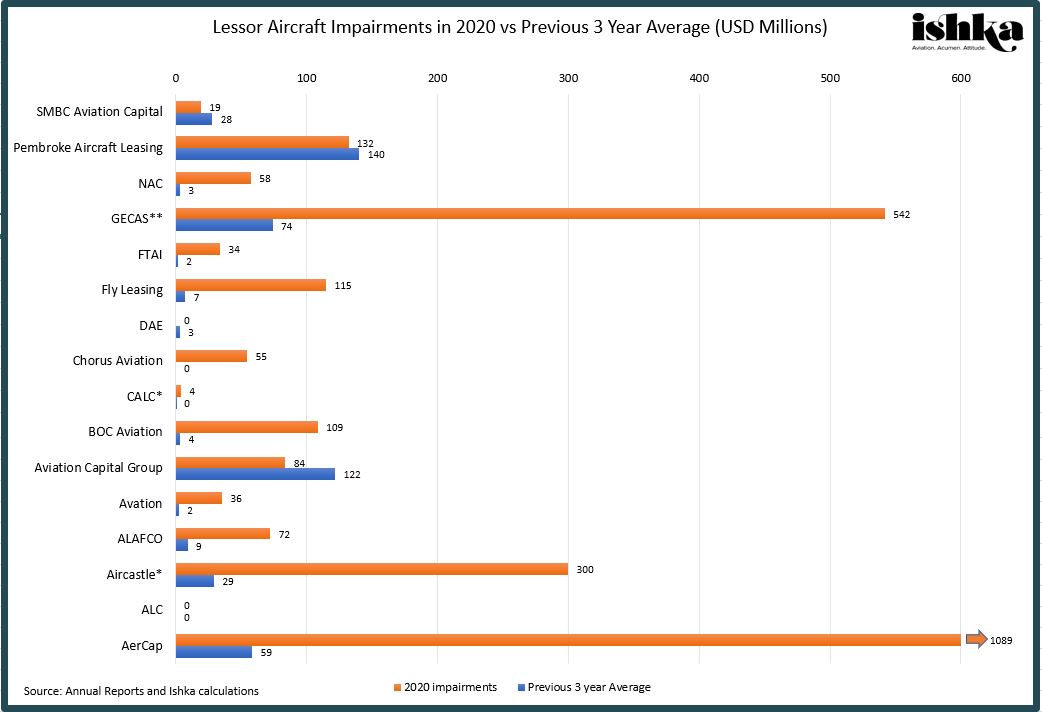 Older widebody aircraft behind many lessor impairments
The largest aircraft impairments over the last 12 months have typically related to older widebody aircraft types. As an example, AerCap recorded a $1.09 billion impairment charge in 2020 - the largest such charge among the lessors surveyed by Ishka - relating primarily to current technology A330 and 777 aircraft. The lessor's CFO, Pete Juhas, noted during its Q3 2020 earnings call that "there is a permanent reduction [in lease rents]" on A330s and 777s but added on its last earnings call that did not expect "any significant further impairments."
Meanwhile, GECAS, the GE leasing unit soon to be merged with AerCap, recorded asset impairments of $542 million in 2020, up from $74 million in 2019. Ratings agency Fitch highlighted that the markdown of GECAS's fleet during the year "potentially" reduces future impairment risk but did note that potential impairments related to GECAS's "older and regional aircraft" represent around 5% of the company's portfolio by net book value.
Singapore-based lessor BOC Aviation recorded impairments of $109 million in 2020, increasing from an average of $4 million over the previous three years. BOC Aviation CFO Steve Townend said this impairment was "focused mainly on widebody aircraft."
Separately, midlife-focused lessor Aircastle announced impairments of $300 million for the nine months ending 30th November 2020 relating to "thirteen narrowbody and five widebody aircraft." This is an increase of 934% from the previous three-year average impairments of $29 million, with another quarter of results still to be added to the 2020 figure.
Early lease terminations also drive impairments
Irish lessor Fly Leasing recorded impairment charges of $115 million in 2020, increasing from an average of $7 million over the previous three years. The impairment included a "significant" $106 million impairment on two seven-year-old A330-300s expected to be "returned early by a lessee," who Ishka understands to be Philippine Airlines.
Avation recorded impairments of $80 million in 2020, $18.9 million of which is related to early lease terminations concerning 11 ATR 72s and two Fokker F100s at Virgin Australia and $9.5 million of the impairment relates to two Airbus A321s formerly leased to Thomas Cook Airlines. $47 million of the impairment concerns aircraft leased to Philippines Airlines, Virgin Australia, and Braathens which are (or were) subject to "formal or informal restructuring processes." The recent figures compare to a pre-2020 three-year average of $2 million in impairments.
Crisis means a much wider range of aircraft assets vulnerable to impairment
It is important to note that not all impairments have been linked to widebodies. A soft commercial aviation market has had an impact on residual values for practically all aviation assets. Regional aircraft lessor Chorus Aviation recorded its first impairment charge in four years with impairments of $55 million in 2020. The lessor is actively remarketing 13 off-lease aircraft resulting from lease terminations, which contributed to the increased impairment charges in 2020.
Similarly, Nordic Aviation Capital (NAC), the world's largest regional aircraft lessor, has seen a rise in impairments from an average of $3 million in the past three years, to $58 million in 2020. NAC recently announced that it has been exploring the possibility of a Chapter 11 restructuring among other options (see Insight: 'NAC founder explores takeover as lessor faces new restructuring options').
Meanwhile, Fortress Transportation and Infrastructure (FTAI) recorded 2020 impairments of $34 million "over 31 individual aircraft and engines," increasing from an average of $2 million in the previous three years. FTAI CEO Joseph Adams commented that the lessor has "elected to write-down these specific assets to levels which we expect to be the lowest value in this cycle."
As an example, a recent Ishka report (see Insight: 'A look at 5-year old aircraft values, Airbus' loss, Chorus' results and the Mexican 737 auction') showed that a mix of 5-year-old aircraft (2016 vintage) including turboprops, twin-aisles such as the 777s as well as A320ceos and 737-800s have seen an average fall in values of 23% across asset types since January 2020 for off-lease aircraft and 31% drop in lease rates (see table below).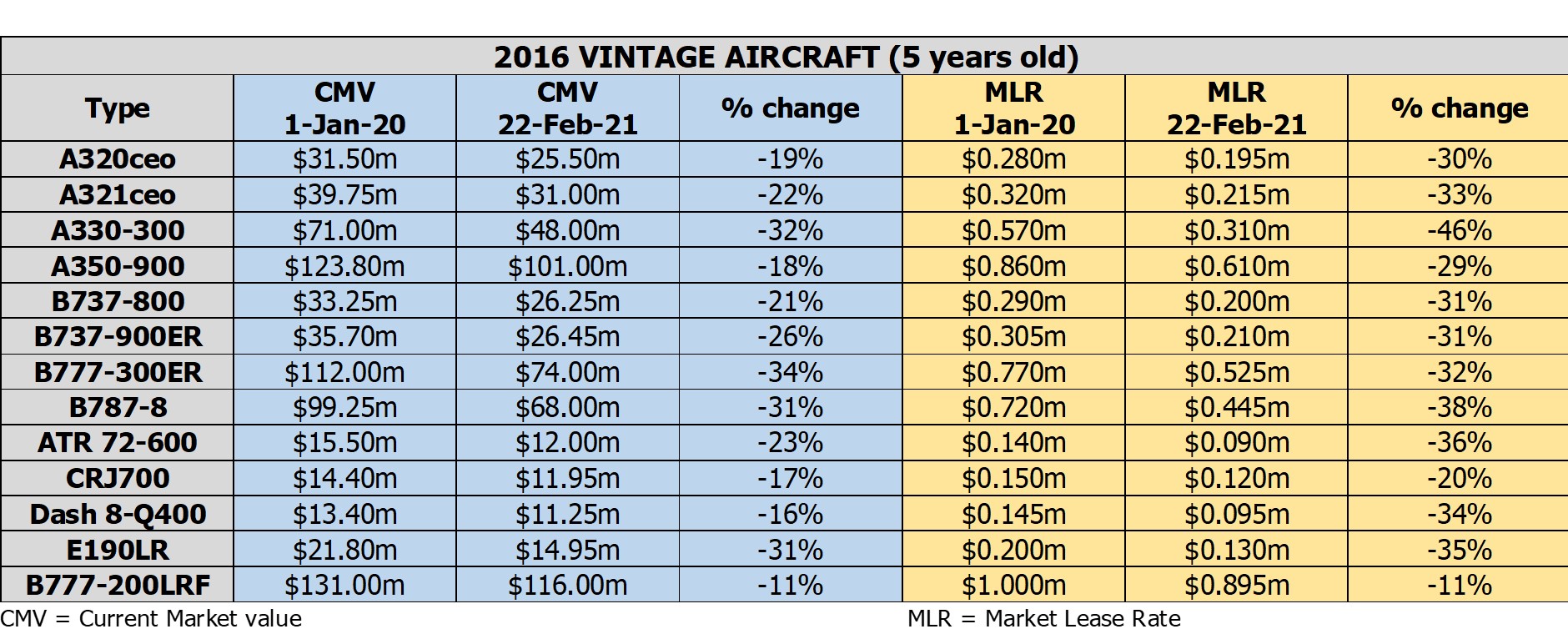 Falling impairments for some lessors
Not every lessor has recorded an increase in impairments. SMBC Aviation Capital (SMBC), Aviation Capital Group (ACG), and Pembroke Aircraft Leasing (Pembroke) recorded lower impairments in 2020 than in 2019.
SMBC recorded impairments of $19 million in 2020, down from an average of $28 million in the previous three years.
ACG recorded impairments of $84 million, falling from an average of $122 million in the previous three years. Pembroke also recorded lower aircraft impairments of $132 million in 2020 compared to a previous three-year average of $140 million.
All three lessors are focused on narrowbody aircraft, mostly 737s and A320s, with only a small number of widebodies.
Air Lease Corporation (ALC) has recorded no impairment charges in the past four years. In a recent earnings call CEO John Plueger said he was not "surprised" by the lack of impairments given that the average age of the lessor's fleet is around four years.
The Ishka View
Impairments are fairly routine for the aircraft leasing industry. However, the scale of recent impairments highlights the impact the crisis is having on aircraft values generally. As an example, International Airlines Group and Lufthansa reported a collective $2.75 billion in impairments over 2020. This related primarily to retired and stored aircraft for IAG and "four-engine aircraft models" for Lufthansa.
2020 has been a difficult year for most airlines, and, unsurprisingly, those that have been able to have chosen to return aircraft early to their lessors resulting in impairments. Residual aircraft values for most assets appear to continue to be falling, according to research by Ishka's advisory team. As a result, lessors receiving aircraft back from bankruptcies or early lease terminations are seeing dramatic drops in values for naked aircraft, especially on older twin-aisle aircraft.
The main emphasis of impairment charges by lessors in 2020 was on widebody aircraft. As Ishka previously noted, demand for certain current technology widebody types including the B777 and the A330 was falling before the pandemic due to a wave of short lease expiries, several airline bankruptcies, and a shift towards newer technology aircraft. The pandemic has simply accelerated this process and lessors are bearing the brunt of what is likely to be a seismic shift in airline fleets.
Given the uncertainty around the timing of a market recovery, future impairments are likely to hinge on more early lease terminations. Unfortunately for lessors, several large airline restructurings on the horizon look set to result in more impairments over the course of 2021.
For more information about Ishka's aircraft values contact Chris Keene ([email protected]) or visit Ishka Transactions – Ishka's database of unique aircraft trading data.