in Aircraft Asset Profiles , Aircraft Finance Market
Tuesday 8 June 2021


Are used A330s winning the hearts (and wallets) of airline startups?
It has been a rocky ride for used Airbus A330 owners over the past year, with the availability of A330s for sale or lease soaring past an already crowded market pre-crisis. According to CAPA Fleets data, there are 129 A330s owned by lessors or aircraft investors without a current operator. The true figure of available A330s is likely to be far higher. Unsurprisingly, this has had a negative impact on aircraft current values: see Ishka's latest Aircraft Pricing Benchmark (APB).
However, A330 investors are fighting back. Last month, 15 firms including remarketers and aircraft owners launched a joint PR campaign called Destination Next to "raise awareness of the unique abilities of used A330-200/300s." The idea is to tempt operators by showcasing the benefits of mid-life A330s. Ishka believes this is one of the first concerted PR campaigns around an asset type by secondary market players.
In addition to taking out paid content in other industry publications, the campaign has put together an innovative website to showcase the type's benefits, an economic model, and a selection of available aircraft – several of which belong to TrueAero and Global Knafaim Leasing. A spokesperson for Destination Next told Ishka that its goal is to "remind existing and potential A330 operators" of the type's benefits. Speaking privately, one partner organisation put the emphasis on "potential" new operators.
Finding first-time operators
It is too early to tell whether these campaign efforts will be successful or not, however, there appears to be a growing interest from startup airlines for A330s. An Ishka analysis of used A330 deliveries (excluding P2F and cargo) since the start of 2020 shows 39 aircraft were delivered to 19 operators, including eight operators who were new to the type. Separately, CAPA Fleets data for leased A330ceo deliveries show six operators who previously did not operate the type took delivery of their first A330 (including cargo) in 2020, more than in any of the previous three years.
This shows early stage but growing interest for the Airbus widebody by new operators, although still insufficient to put most off-lease A330s to work.
Source: Ishka research with expanded details from CAPA Fleets
Note: AELF FlightServices acquired a majority stake in Malta-based Maleth-Aero. AELF owns the A330s on lease to Maleth-Aero.
Click here to download the data behind the chart.
With most of the world's major widebody operators increasingly selective about the age and size of their long-haul fleets, A330 investors are hoping first-time operators including airline startups will step in to lease A330s.
Positive signs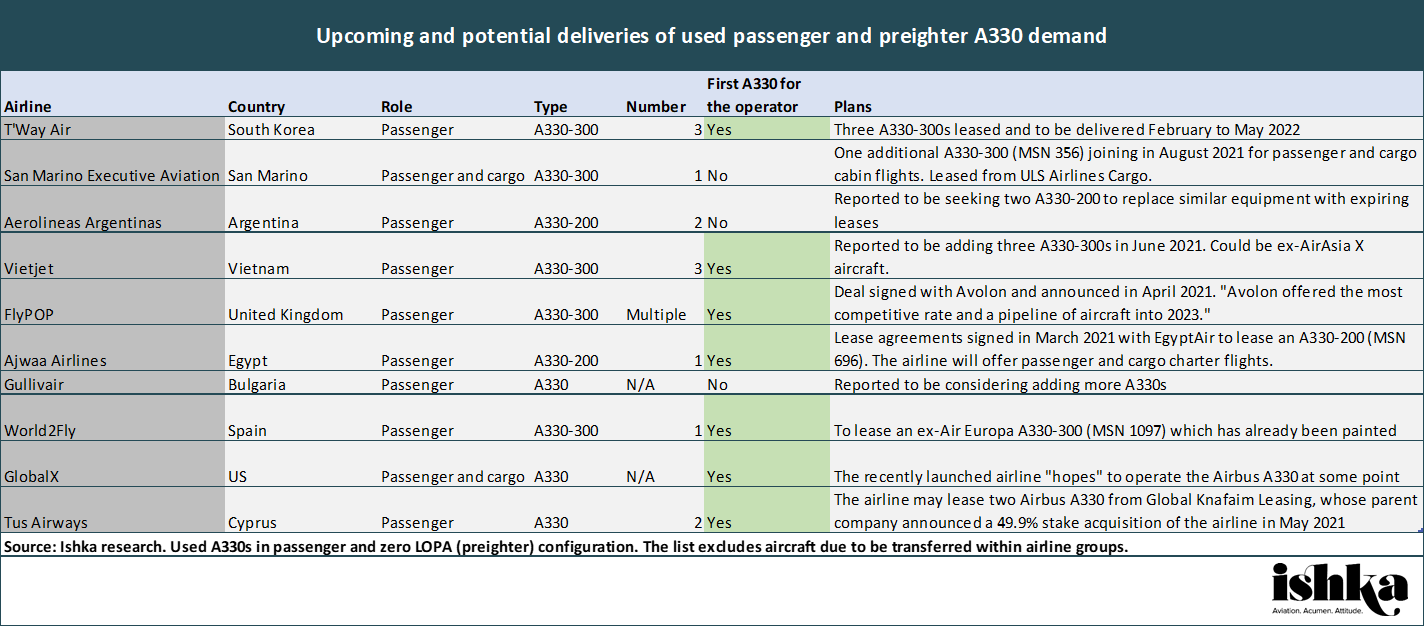 Source: Ishka research with expanded details from CAPA Fleets
Click here to download the data behind the chart.
Recent reports and announcements suggest as many as 10 operators will be taking delivery of used A330s in the coming months or are considering incorporating the type. Notably, seven of the 10 names would be first-time operators of the A330. If these deliveries come to fruition, the trend towards an expanding A330 operator base seems set to continue for the short to medium-term.
One remarketer familiar with the A330 confirms growing interest by startups, whose emergence is a logical consequence of a dislocated market. However, the source also says that while interest from startups in the type is welcomed, the airlines should show a supporting business case. Many startups rely on securing an aircraft before applying for an operating certificate (AOC) but this, the source says, "is no good for us – we want certainty."
All-time high availability
According to CAPA Fleets data, there are 129 A330s (84 A330-200s and 45 A330-300s) owned by lessors or aircraft investors without a current operator, a three-fold increase from 39 in mid-2019 – when the availability was already putting pressure on lease rates and values (see Insight: 'Remarketers confirm plummeting mid-life A330 lease rates').
At that time, up to 100 A330s (including aircraft with leases yet to mature) were believed to be actively remarketed. The real number of available aircraft right now is harder to estimate, but it is expected to be well beyond 100. Approximately 1,500 A330ceos have been built, with the vast majority (approximately 1,000 units) delivered over the past 12 years, creating a pipeline of lease returns and first operator phase-outs.
A step further: Buy the airline
Other A330 investors are exploring more creative solutions. One of Destination Next's partners, Israel-based Global Knafaim Leasing, may have recently found a placement for two available A330s. The lessor's parent, Knafaim Holdings Ltd. (El Al Israel Airline's former majority owner), last month bought a 49.9% stake in Cypriot airline TUS Airways for $5 million. The announcement mentioned TUS was considering leasing two A330s from Global Knafaim Leasing. Ishka understands discussions around this possibility are continuing.
In its recent Q1 results, Global Knafaim Leasing reported having two A330s off-lease: an A330-200 (MSN 1293, 2012 vintage) and an A330-300 (MSN 1157, 2010 vintage). The former was returned by Virgin Australia in August 2020 and the latter has been in storage since November 2016 after completing a five-year lease to Singapore Airlines and a short lease to Transasia Airways.
Global Knafaim Leasing took impairments of $3.64 million and $3.19 million on MSN 1293 and MSN 1157 respectively during the first quarter, according to company filings. Current maintenance adjusted market value for the two aircraft after the impairment is $32.72 million and $31.2 million respectively, according to filed independent appraisals.
The Ishka View
There has been no shortage of creativity among aircraft owners looking to place passenger aircraft, and this is especially true for widebodies. Airline startups have always been good homes for most aircraft types towards the end of their economic cycle, but the sales pitch towards these operators has perhaps never been so relevant. Ishka is aware that some recent A330 deals include, in addition to low market lease rates, utilisation clauses and even some profit-sharing models, reducing the financial risk faced by airlines foraging into widebody operations.
Whether a PR campaign such as Destination Next will lure more airlines into A330 operations remains to be seen. The campaign spokesperson told Ishka it has "been well received by operators and there have been enquiries for available aircraft," but with less than a month since its launch two of the partner organisations confided privately it was still too soon to tell. Rolls-Royce and Partners Finance (RRPF), which appears to have played a pivotal role in its launch, will be hoping the campaign pays off. According to CAPA Fleets, around half of the 129 passenger A330s without a current operator are powered by Trent 700 engines. Rolls-Royce, RRPF's parent and also a campaign partner, relies on flight hours for revenues under its TotalCare service packages.