in Aircraft Asset Profiles , Lessors and Lease Rates
Friday 6 May 2022


MAX return weakens 737NG premium over A320ceo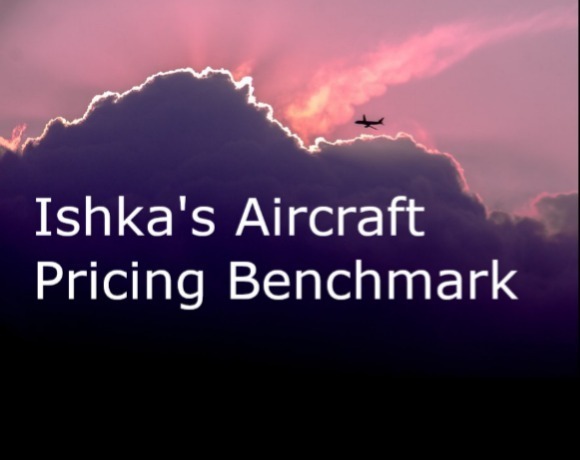 Prices appear to be stabilizing for older narrowbodies with prices for eight -year old A320ceos and 737NGs settling at a floor of around 25% below pre-COVID values, according to contributors to Ishka's Aircraft Pricing Benchmark report.
Ishka started formally tracking market sentiment a year ago and the A320ceo has continued to show a meaningful improvement in pricing since Q2 2021. In contrast, the premium for the B737NG seems to have decreased or even disappeared in some cases. The two types are now at similar levels despite Boeing's P2F programme. For both aircraft types the percentage of their global fleets in active service has increased.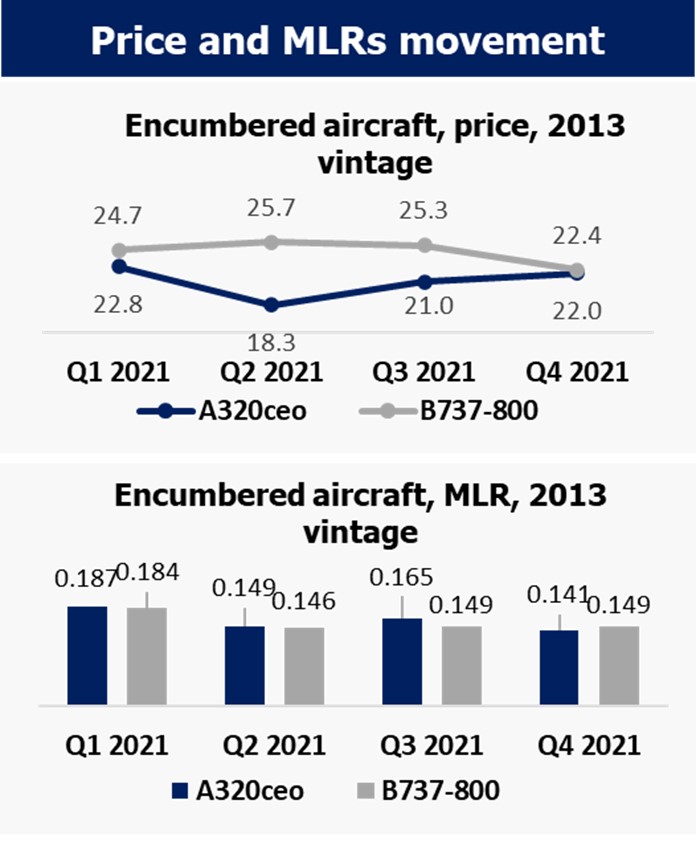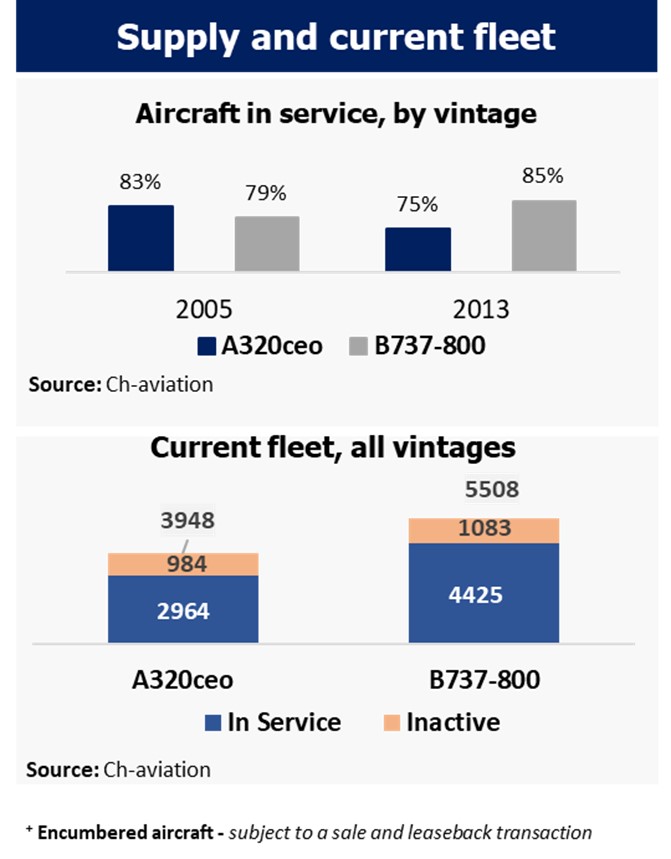 Older Generation NBs: Increased availability slows values recovery

Data for the report was collected during Q1 2022. Respondents confirmed that inventory levels have been improving but were still high, especially for the A320ceo that is increasingly being replaced by the very successful new generation A320neo.
ESG mandates, as well as increased fuel prices, have placed some old generation aircraft at an operating cost disadvantage while demand continues to shift into new generation narrowbodies.
Trading activity has also picked up a little with pricing moving closer to base values in some cases, but still limited as many lessors do not want to unnecessarily crystalize losses or book impairments
On a positive note, contributors confirmed that fewer PBH deals were being done in Europe or North America. Fixed lease rates are returning, not yet to pre- pandemic levels, but with travel and traffic resuming, contributors are expecting to see market lease rates recovering.

Eight-year-old A320ceos: Prices stabilized after the end of 2021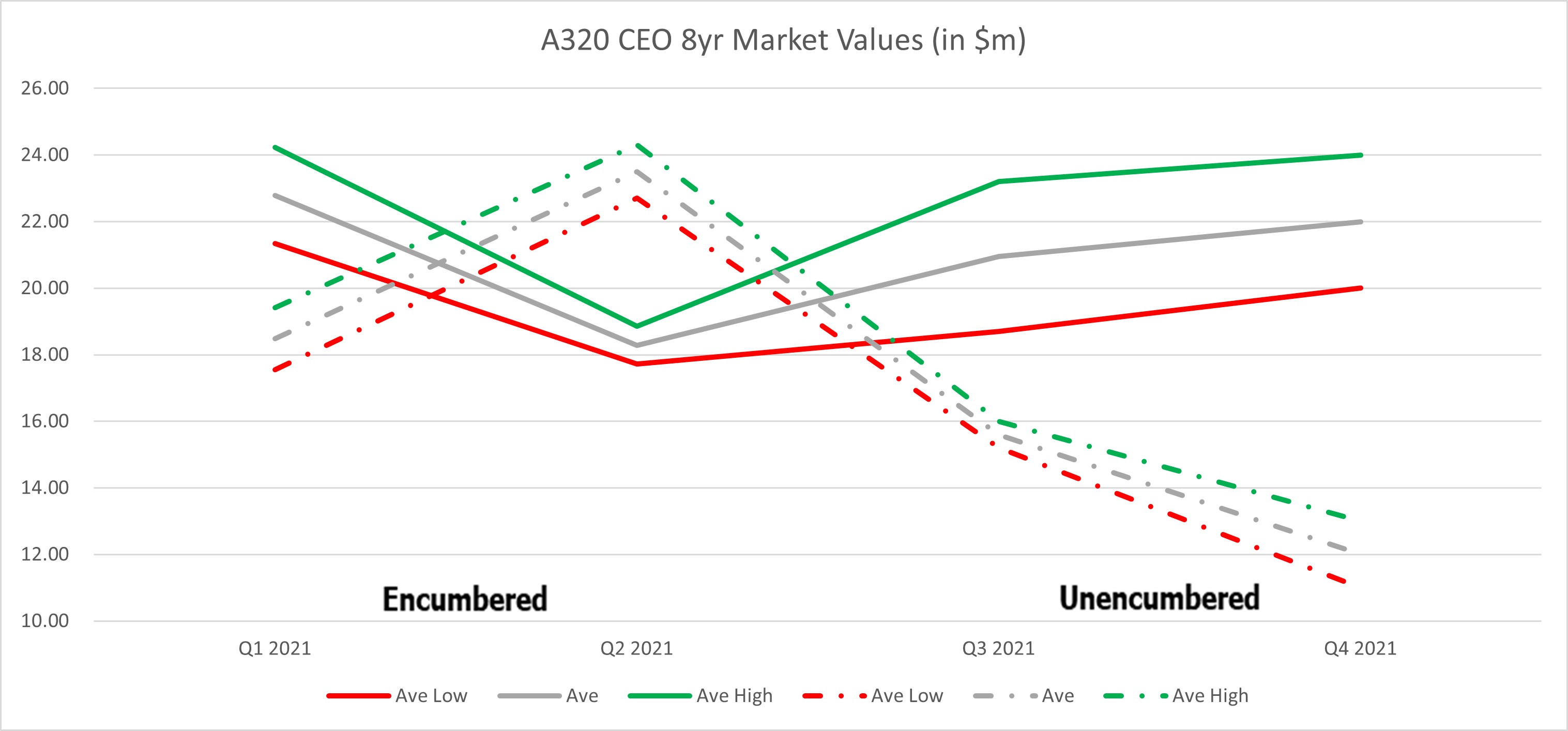 Ishka notes there is a big spread in the market values provided by contributors for 8-year old A320ceos - indicative of a lack of a consistent sentiment across all the different regions. The aviation sector is exhibiting different stages of recovery in different parts of the world.
There is still a high degree of availability of the type in Europe, while in regions such as Asia and Australia/New Zealand, the level of demand has brought competitive prices for the A320ceo.
Europe and North America are moving towards fewer PBH deals for the narrowbody aircraft, but in Asia PBH contracts are still prevalent. Contributors have reported the 'new normal' of leasing agreements as either PBH or low monthly rates for the first three to six months followed by higher fixed lease rates for the remainder of the lease term.
Monthly lease rates for a midlife A320 average towards $0.120m per month for the first few months and move towards an average of $0.140m for the remainder of the term.
Unencumbered prices have experienced a significant drop, which is a result of a challenging market for placing off-lease aircraft. While capital is still available for investment, the market is waiting to see if the cargo conversion programme will be successful for the type.

Eight-year-old B737-800s: Lease rates broadly stable, but prices take a dip

Eight-year-old B737-800 prices have come down in the last quarter, closing the gap with its competitor the A320ceo. The aircraft type previously enjoyed a premium over the A320ceo, thanks, to the success of its cargo conversion programme. However, current demand has weakened as many near-term conversion slots have already been filled.

As the B737 MAX returns to the skies, contributors predict more replacements will take place, putting more older B737 aircraft back into the market. airlines like Ryanair who are upgrading their fleets are already adding feedstock to the market. Higher availability coupled with increasing fuel costs and stricter ESG initiatives are affecting the prices of mid-life narrowbody types.
Average prices for eight-year old B737-800s have come down from $25 million to an average of $20 million over the last quarter of 2021. For unencumbered aircraft, prices have been stable at an average of $18 million.
Contributors have also raised concerns regarding a potential oversupply of the B737-800P2F conversion with new conversion lines appearing in the market. Excessive supply coupled with a ramp-up in MAX production may hold back the type's recovery in the near term.

Download the full report here including data collection information and methodology.