New leasing platforms established since 2020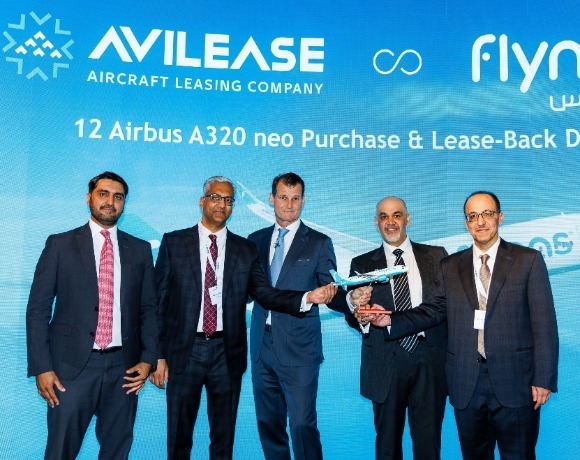 In the past two months, Ishka notes the inception of four new leasing platforms: AviLease, Abelo, FitzWalter Capital Aviation Services (FWCAS), and Crestone Air Partners, representing a fresh wave of equity investment into the aircraft leasing segment.
AviLease's official launch occurred during the Farnborough Airshow this week. Headquartered in Riyadh, the high-profile new leasing start-up is backed by Saudi Arabia's Public Investment Fund (PIF) and boasts a roster of senior leasing talent. Led by former AerCap C-suite executive Edward (Ted) O' Byrne, the firm also includes Ex-ORIX CEO, David Power, and former GECAS chief, Alec Burger, on its board. The lessor is targeting new-technology aircraft and has agreed a sale/leaseback deal for 12 A320neos with Saudi low-cost carrier flynas.
Ishka notes that 10 new leasing platforms have been established since 2020, including eight during the pandemic. Please note, this list does not include all the separate funds that have been raised since the onset of the crisis by existing asset managers, which will be covered in a separate Insight report.
These newly established lessors have targeted, or plan to target, a variety of aircraft types, including turboprops, narrowbodies and widebodies, ranging from new-technology to end-of-life vintages. Most of the new platforms are based in the US and Ireland, with two in the UK and one in Estonia.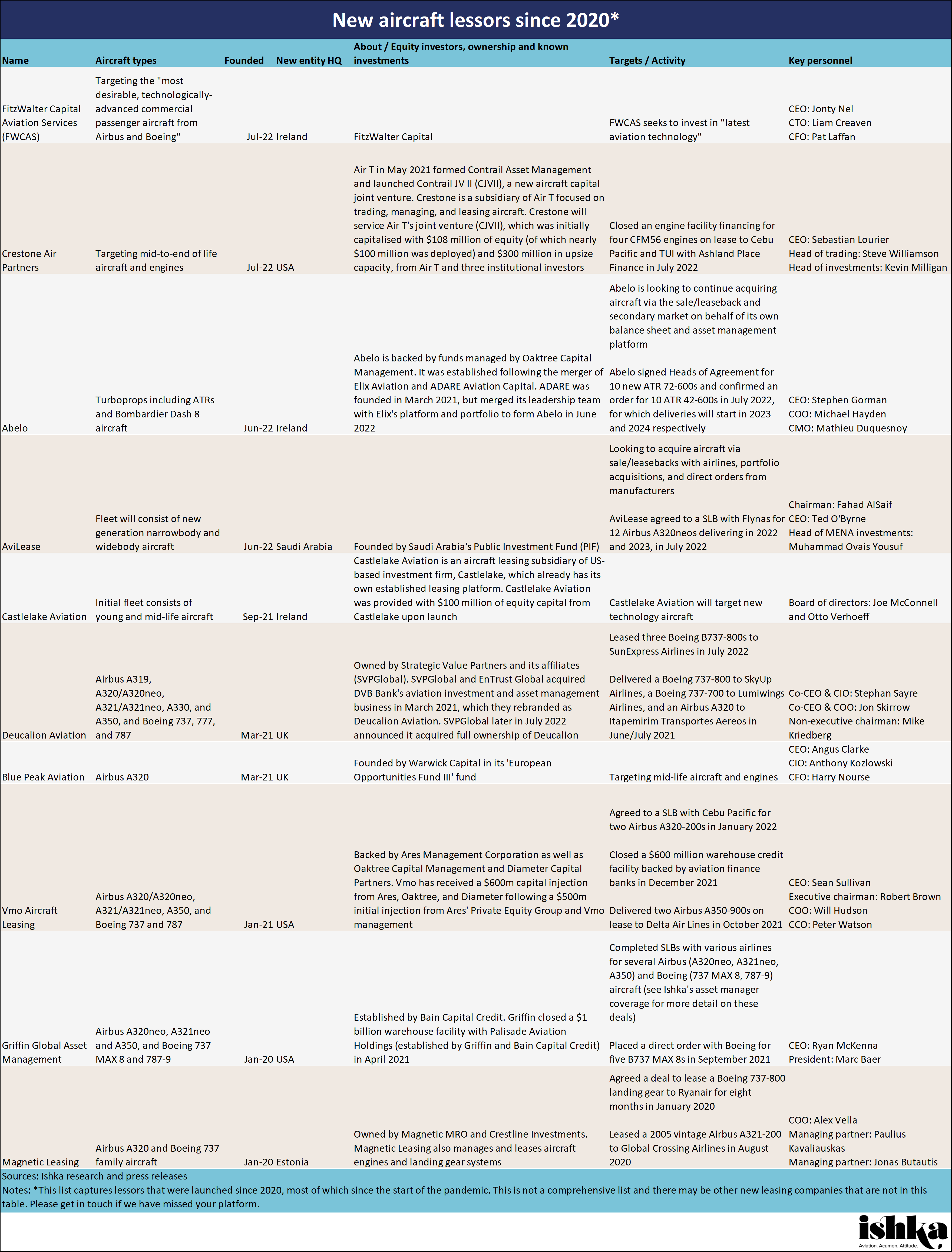 Click here to download the data behind the table
Other notable lessor updates
In addition to new leasing platforms, some existing lessors have announced several new leasing initiatives since 2020. Ishka has not included these as new leasing platforms but has listed some notable updates below:
ADARE Aviation Capital in March 2021 – a platform established with a target of acquiring new-technology aircraft. ADARE merged with Elix Aviation in June 2022 to form Abelo (which is listed in the table above).
Backbone Freighter Leasing in May 2022 – a branded freighter initiative set up by German investment firm Dr. Peters Group, which will lease converted Boeing 777-300ERs to be converted by Kansas Modification Centre.
KLA Aviation Finance in January 2021 – a $1.5-billion platform launched by credit manager Kennedy Lewis Investment Management and aircraft asset manager Arena Aviation Capital. Kennedy Lewis committed to providing equity to KLA while Arena sourced transactions for KLA. In February 2022, Ishka reported that Arena was in the process of selling a KLA portfolio of narrowbodies split between Airbus A320ceos, A321ceos, and A320neos, with vintages ranging from 2011 to 2020.
AELF FlightService in November 2020 – rebranded from Presidio Aircraft Leasing and in doing so entered the wet leasing and ACMI charter market.
The Ishka View
The pandemic appears to have slowed down, rather than stopped, the creation of new leasing platforms in recent years, particularly compared to the flurry of entities launched in 2018 and 2019 (see Insight: 'Recent arrivals: New lessors since 2018').
But it is important to note that the aircraft leasing sector continues to attract capital. Several lessors have merged in recent years, which has also helped entrepreneurial talent to either join or spur new leasing platforms.
This report does not include the number of existing platforms and asset managers that have raised funds over the last two years. As an example, Ishka is aware of several distressed investors and specialist funds which have shown interest in acquiring assets from airline restructurings. Aircraft investors have been buffeted by a number of black swan events including the pandemic and the fallout from Russia's invasion of Ukraine. But more lessors are in the process of being created. Ishka hears that at least two other new leasing platforms are currently raising equity.
For any questions or feedback, or if we have missed your platform, please get in touch with Dickon Harris at dickon@ishkaglobal.com or Joseph El-Helou at joseph@ishkaglobal.com.