Aircraft trading battles interest-rate and financing headwinds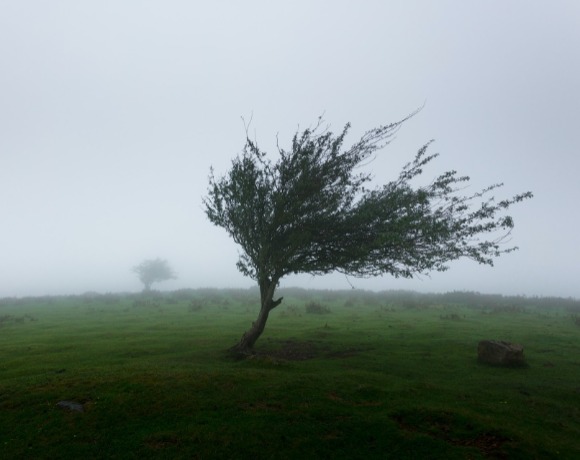 Senior aircraft lessors confide that the aircraft trading market continues to be "volatile" in September as increased interest rates have widened the bid/ask gap, disrupting, and in some instances, derailing deals between aircraft investors.
The increased cost of debt has upended investor return assumptions, prompting potential buyers of leased aircraft to offer weaker bids to meet their revised return assumptions. However, many sellers are still not willing to discount prices despite the rise in rates, according to multiple leasing sources. "There are a lot of portfolios out there that are not trading," summarises one European leasing CEO speaking to Ishka early in September.
Speaking with Ishka at the ISTAT EMEA conference in Marrakech, Avolon CEO, Andy Cronin, stated that the market was currently undergoing a "repricing" of aircraft assets. "The market generally is looking at repricing and how to incorporate and what the impact is for that higher inflation, which should boost residual value with higher swap rates, which will compress yield. Each buyer is kind of taking their own view on that. I think what we are seeing as well is probably less appetite in the bank market to finance a lot of the smaller-scale acquisitions."
One leasing source explained that the rising cost of debt was forcing many lessors to price aircraft at a 10% to 15% discount compared to the start of the year, but noted "I am not seeing that. Sellers aren't incentivised yet to offer that sort of discount. There are not really distressed sellers at the moment."
At the recent ISTAT EMEA conference held in September, an audience poll echoed this trend citing inflated book values as the single biggest challenge for secondary aircraft trading.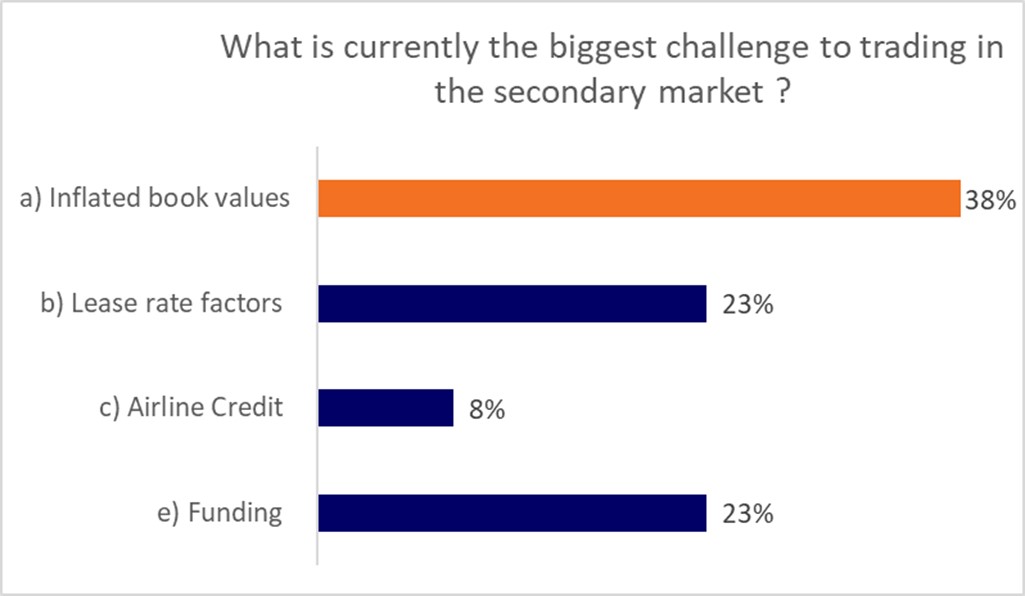 Source: ISTAT EMEA Audience Poll Sept 2022

At the same panel one lessor commented that higher debt pricing was also having a dampening impact on aircraft trading. He stated many asset managers were looking at "over 7%" all-in cost for short-term financing assuming that 3-month SOFR, currently at just under 3%, is expected to rise to over 4%-4.5%, following further Fed hikes. "If you add a 2.5% or 3% margin on top of that you are looking at easily over 7% for warehouse financing. That means the traditional model of buying a 10 aircraft portfolio and then terming them out via an ABS is not going to work if your equity return assumptions are 6% and you are getting LTVs in the 60s," explained the lessor, indirectly referencing the 67% LTV obtained in the single-A Carlyle ABS, AASET 2022-1 (see Insight: "Carlyle tests frozen aircraft ABS market as it prices AASET 2022-1").
In a briefing earlier this summer, Ishka reported how rising swap costs were negatively impacting pricing assumptions of leased aircraft (see Insight).
Aircraft trading as a whole has become harder since the summer, but not impossible, agrees one senior lawyer who admits that many of his clients are still doing smaller trades. Sources indicate that many funds have committed financing in place raised over the last two years, and have been able to find deals as a result. "There is a lot of cash in the market looking for the right opportunity," muses another lawyer.
DAE buys Sky Fund portfolio, Avolon, ALC, BOC announce Q3 trades

Despite the challenges surrounding obtaining competitively priced debt, aircraft trades are still happening. Several of the largest lessors recently announced trading activity during the third quarter of 2022 (see list below).
In October Dubai Aerospace Enterprise (DAE) acquired a portfolio of 36 aircraft after buying Sky Fund 1 from aircraft asset manager Sky Leasing. The bulk of the assets are included in Sky Leasing's aircraft ABS SLAM 2021-1, and the acquisition means DAE will take ownership of the ABS e-notes as well as several additional aircraft. The transaction will be funded by internal resources and is expected to be completed in the fourth quarter of 2022, subject to the receipt of required regulatory approvals.
Separately, Irish lessor Avolon announced this week it had acquired 13 aircraft during Q3 and entered into letters of Intent for the sale of 7 owned aircraft.
Singapore-headquartered BOC Aviation Limited (BOC Aviation) sold one owned and one managed aircraft.
US aircraft lessor Air Lease Corporation (ALC) sold one undisclosed aircraft to a third-party buyer.
The Ishka View
Aircraft trading is being buffeted by numerous headwinds. These range from the strengthening US dollar, rising interest rates, higher swap costs, and increased debt costs for new facilities. The cumulative impact of all these pressures has been to dampen aircraft trading as buyers and sellers struggle to price historic deals, many of which involve fixed lower lease rates, against a climbing interest rate environment.
But it is important to stress that deals are happening. As one senior lawyer confided, the industry is currently dotted with "pockets of optimism and pockets of pessimism" i.e. split between the asset managers and lessors with financing, or cash in place, empowered to agree deals, versus a large swathe of frustrated asset managers unable to make the economics work for new transactions.
The recent DAE trade is a good example. DAE flexed its considerable financing muscle to acquire a large portfolio of liquid assets leased to a range of top-tier airlines. Sky booked a large number of sale/leasebacks with top names, during the uncertain start of the pandemic. The lessor's timing was prescient given how quickly the market swung back to cheaper leases in 2021 and 2022. It is not clear what DAE paid to Sky for the portfolio, but it is likely to have included a considerable premium, given the quality of assets and lessees included, and the long-remaining lease lengths. One bright note is that financing, while becoming increasingly expensive, appears to remain available for lessors, according to numerous borrowers and financiers. The big challenge for many asset managers now is to agree the right price.