in Lessors & Asset managers , Home , Aviation Banks and Lenders
Monday 4 January 2021


Ishka's Aircraft Pricing Benchmark: A320neo and MAX prices stay firm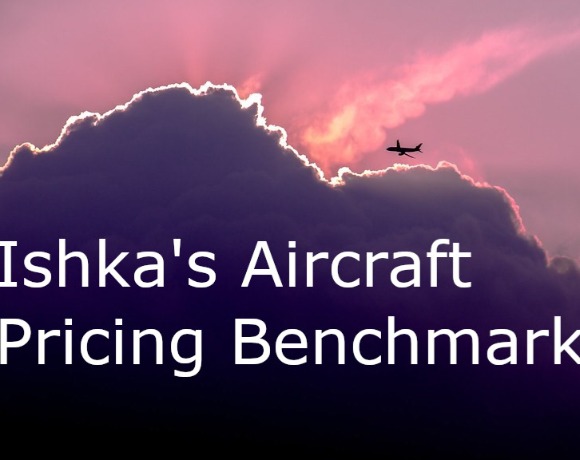 Ishka recently presented the market with its new product: the Ishka Aircraft Pricing Benchmark. Ishka is, for the first time, collecting anonymous market pricing sentiment from a global panel of active aviation finance and trading professionals to assess where the market is currently trading aircraft assets.
Every two months, Ishka will be asking industry participants, who are in the business of buying, financing and selling aircraft (e.g., lessors, airlines, investors, aviation banks, asset managers, part-out companies, and advisors) for their anonymous opinion on the prices of aircraft they are seeing in the market. There are no complex methodologies behind the numbers. We will simply collect and report the prices the market is observing.
The Ishka Aircraft Pricing Benchmark initially follows the most popular aircraft types, both narrowbodies and widebodies, including the A320neo, A320ceo, B737 MAX 8, B737-800, A350-900, A330-300, B787-9 and the B777-300ER, covering both naked/unencumbered and encumbered (sale and leaseback) markets and reflecting three vintages - new, eight-year-old and 16-year-old aircraft.
For the first edition of the Aircraft Pricing Benchmark, Ishka collected and processed four different aircraft types, all narrowbodies (A320neo, B737 MAX 8, A320ceo and B737-800) for new, eight-year-old and 16-year-old aircraft, where appropriate.
New A320neo and MAX prices and lease rates

The market states the average price of a new A320neo, with lease attached, (i.e via sale/leasebacks) is $48.1m while the price range for these lease-encumbered A320neos falls between a low of $43m and a high of $55m. Contributors shared the view that some good credits are still being able to strike deals at pre-pandemic values. As for unencumbered, or naked A320neos, the average price is $44.2m - only slightly below an encumbered aircraft, possibly signalling optimism from market participants about the ease in placing a new Neo.
A320neo lease rates are also relatively tight, with the average monthly lease rate of $314,000 for encumbered aircraft (i.e. as part of sale/leasebacks) with a spread of views from $221,000 to $408,000, while anticipated lease rates for unencumbered (off-lease) aircraft average out at $290,000, with a low of $200,000 and a high of $365,000.
Several contributors believe that the B737 MAX 8 will be a "workhorse for the 2020s". Although reputational issues for the type persist, some see a narrow spread between low and high-end SLB activity, suggesting some confidence in the type. With airlines still negotiating claims regarding the grounding of the type and with many aircraft still undelivered, some contributors believe that bargains might still be possible to grab. Ryanair's recent 75 MAX order, and the additional orders plus placement of more MAX aircraft with Alaska Airlines reflect these opportunities.
The average price for a new 737 MAX 8 via a sale/lease (i.e. with a lease attached) is $44.9m, according to the contributors' collective view, within a price range for encumbered aircraft of $40m to $53m. For unencumbered, or naked aircraft, that price stands at $41.5m, again signalling potential interest in the aircraft, even when it has no lease attached, although the widespread of opinion (from $33m to $49m) indicates there is a significant variance from what many see as a 'bid' price on an opportunity basis, to what a seller might be prepared to release at. It is understood that there are around 40 undelivered aircraft still awaiting lessees. Lease rates are also tight, with encumbered aircraft (e.g via sale/leasebacks) being leased, in the market's view, on average at $325,000 a month, while unencumbered aircraft would likely be placed on average at $293,000.
Overall, several contributors to the Aircraft Pricing Benchmark stated they felt that price expectations are still too high for both A320neos and MAXs, given current market conditions. Many new aircraft are being traded via sale and leasebacks as airlines raise their liquidity levels. Contributors have mentioned that creditworthiness is dictating aircraft prices and lease rates in sale/leaseback deals more than they used to.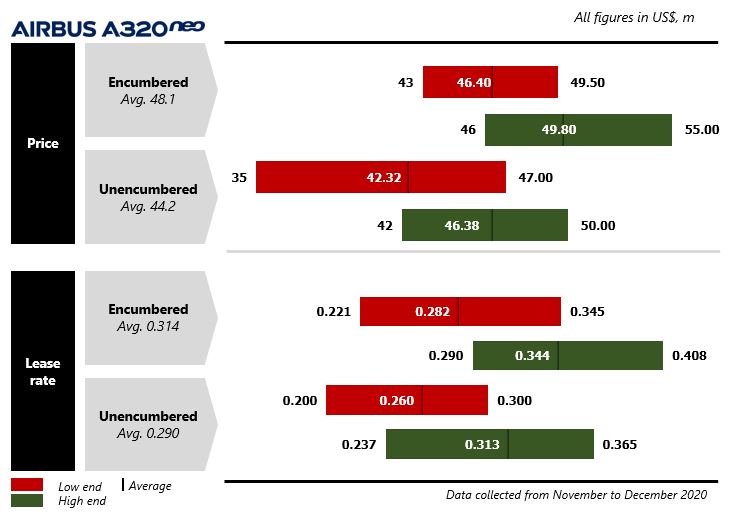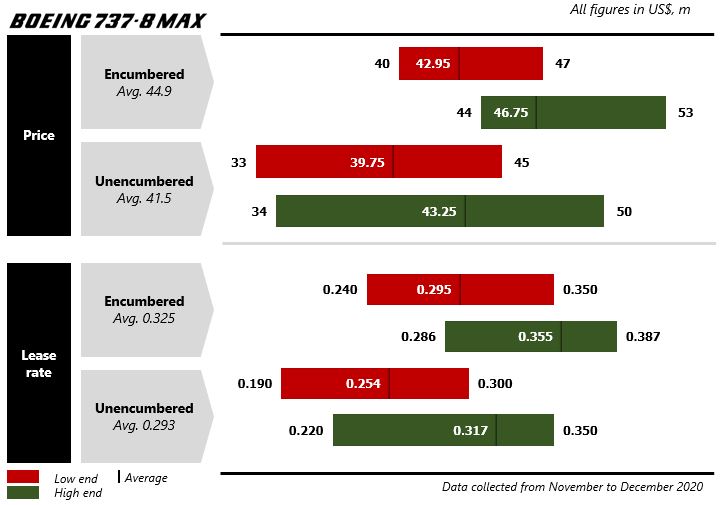 Price drops for eight-year-old A320s and 737-800s

Market participants stated that eight-year-old A320 are on average currently pricing at $21.4m for encumbered deals, with the price spread ranging from a low of $12.5m to a high of $30m. For unencumbered A320 aircraft, the price range is between $11.3m to $29.5m, with average pricing at $18.3m.
Some market contributors are seeing prices down by $3m to $4m versus the pre-COVID-19 period. Currently, over 30 A320s aged 7 to 9 years old are off-lease, located around the world (e.g., India, Mexico, Hong Kong, United Kingdom and South Africa). Contributors added that some narrowbodies, more so than widebodies, have moved onto power by the hour (PBH) contracts, although suppliers are trying to limit PBH solutions. Some customers had been asking for 6 to 12-month PBH contracts and later reverting to fixed monthly lease rates.
For eight-year-old aircraft, encumbered B737-800 average pricing stands at $25.7m, while unencumbered aircraft average pricing stands lower at $18.7m. Narrow bands for prices appear to reflect the recent strong position of the asset, although some considered deals at $30m+ are too high for such vintages, even for very good credits. The market is also seeing more transactions happening in the encumbered space – with traders preferring aircraft with lease attached and the safety of contracted cash-flows and adherence to maintenance programmes. Relative to the A320ceo, the encumbered price for a B737-800 signals a slight premium for the Boeing type, as the type offers more future options as either a passenger or cargo transport.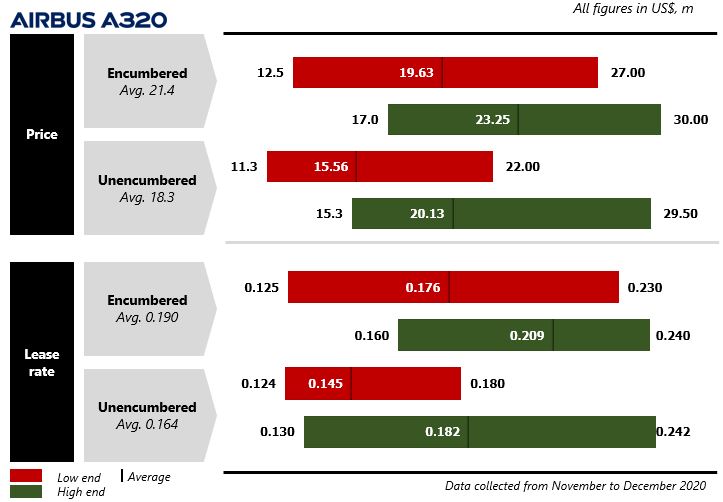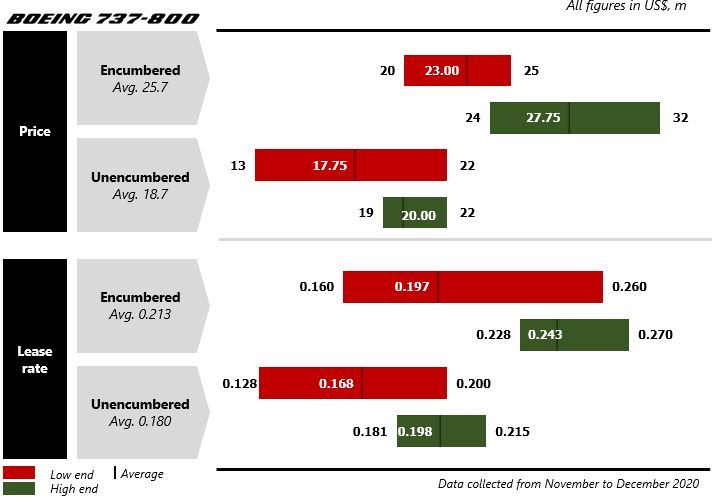 Pricing for 16-year-old A320s and 737-800s

For 16-year-old aircraft, the average price stands at $12.6m for encumbered aircraft transactions, while for unencumbered the average price stands at $9.8m. For encumbered A320s the pricing ranged from $8.5m to $18m, while for unencumbered the spread ranged from $5m to $16m. Interestingly, some contributors stated that leasing out the aircraft's two engines can generate a better return than trying to lease out the aircraft as a whole, while many 'end-of-life' participants are not willing to trade 'just yet', as the spares market appears to have sufficient feedstock.
Around 17 737-800s (aged between 15-17 years old) are currently unplaced (i.e., from China, UK, Australia, Turkey, Mexico, US) while another nine are undergoing, or slated for, freighter conversion.
Market participants stated that the B737-800 remains a popular choice for cargo conversion but some added that leasing the aircraft engines is easier right now than trying to place the aircraft, which remains a challenge for this vintage aircraft. The market view was that unencumbered values are being propped up and capped by the engine values and/or the value of a converted B737-800F, hence the relatively narrow low-high average band ($9m-$10.7m).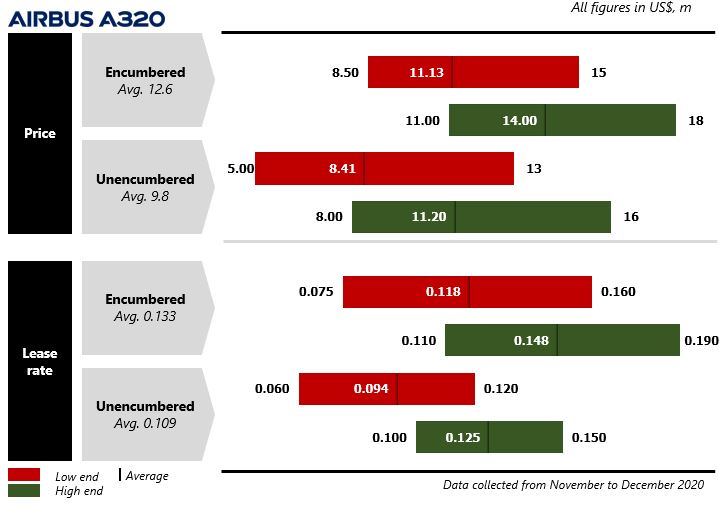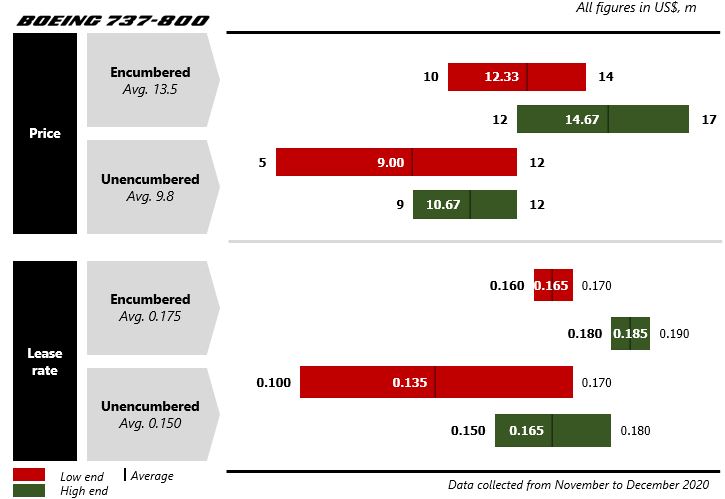 The Ishka View

Aircraft trading has been heavily hit by the pandemic, and while transactions are happening at a slower pace than before, the market is still active.
The contributors Ishka spoke to mentioned that for the new aircraft types, prices and lease rates are appearing within appropriate ranges, with many stating that prices and lease rates today are being driven by the operators' creditworthiness. Many have also stated that a broader disconnect appears to exist in the market, with some players hunting for price bargains, while other market makers are keen on waiting for the worst to pass to then resume trading. The cargo market potential is also influencing the market's view of asset pricing for the 16-year-old vintages.
Ishka's Aircraft Pricing Benchmark data and commentary will be published every two months. If you have any commentary or want to know more about the Ishka Aircraft Pricing Benchmark, please get in touch.
Eddy Pieniazek [email protected]
Daniel Swirsky-Dias [email protected]