Neo and MAX prices rise since January but MAX lease rates dip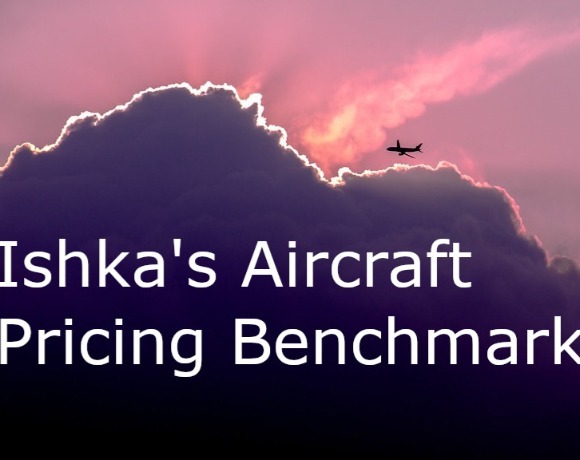 Prices for 737 MAXs and A320sneos have increased and stabilized since the start of the year according to Ishka Pricing Benchmark research – a pricing survey of aviation finance market participants - as Boeing resumes MAX deliveries.

Ishka's Aircraft Pricing Benchmark is an aggregate survey of the market's view of asset prices. Ishka asks market makers, including buyers, sellers and financiers (including lessors, airlines, investors, aviation banks, asset managers, part-out companies, and advisors) their views on aircraft pricing and lease rates, for both the low-end of pricing and the high-end. Ishka simply collects and report on the prices the market sees, with no complex methodologies behind the numbers.
MAX prices firm as deliveries resume

According to those surveyed B737 MAX8 prices now range from $35 million to $54 million for a leased 737MAX. The average stands at $45.5 million – a rise of 1.3% compared to Ishka's last pricing survey conducted in January (See Insight: "Pricing Benchmark: A320neo and MAX prices stay firm").
Prices for unencumbered B737MAX8s have increased slightly, with the low range for off-lease aircraft ranging from $38 million to $45 million, while the higher range goes from $40 million to $47.1 million. The average price for unencumbered aircraft is now at $43.1 million, a 1.2% surge over the January edition of Ishka's Pricing Benchmark (APB).
However, market participants indicate that MAX market lease rates have eased since January for both encumbered and unencumbered aircraft. The low-end MLR range for encumbered aircraft starts at $0.240m and reaches $0.373m, with the average standing at $0.297m. The high-end range for encumbered aircraft stretches from $0.286m to $0.393m with the average MLR standing at $0.342m. Overall, the average MLRs for an encumbered B737MAX8 have decreased by 1.7%, with average MLRs for unencumbered aircraft dropping by 1.3%, signalling some market oversupply and near-term deal-making.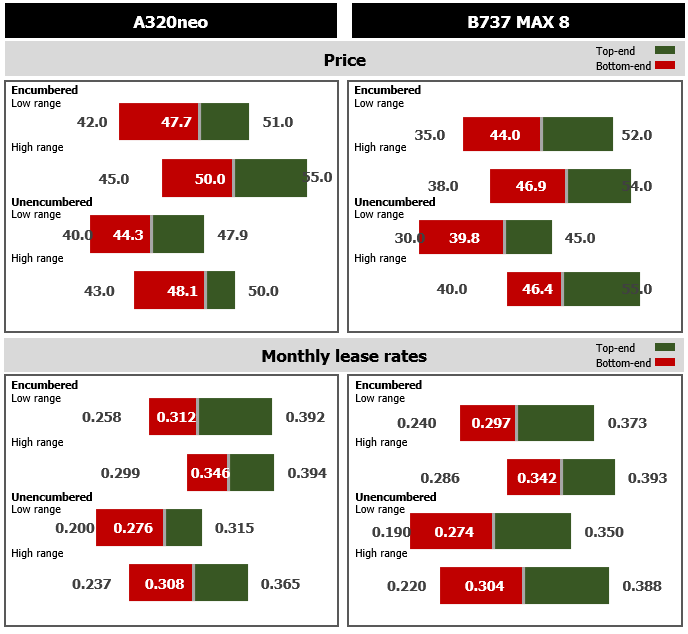 A320neo prices and lease rates inch higher as lessor continue 'flight to quality'

For the A320neo, contributors to the Ishka APB stated that pricing for encumbered aircraft ranged from $42 million to $55 million. The lower bound for encumbered aircraft prices ranged from $42 million to $51 million, while the higher bound ranged from $45 million to $55 million. On average, prices stood at $48.4 million, a slight 0.7% increase over the price published in the January edition of Ishka's Aircraft Pricing Benchmark report (APB). Unencumbered A320neos saw their average price pick up by 4.5%, now standing at $46.2 million as the spread between top and bottom ends tightened.
For encumbered A320neo, the sentiment for MLRs rose a little for encumbered aircraft, the range now runs from $0.258 million to $0.394 million, with the average standing at $0.329 million, a 4.9% increase since the last edition. For unencumbered (off-lease) aircraft, the MLR ranges from $0.200 million to $0.365 million, with the average slightly increasing since the first edition to $0.292 million.
Contributors told the APB that for good credits, prices for the A320neo seem to be holding, with some stating that they were seeing pre-pandemic pricing for airlines which were deemed creditworthy – market makers clearly preferring lessees that are more likely to survive the downturn and be around in the mid/long term.
Market participants also confirmed that there is a disconnect between prices that leasing companies are looking for and prices lessees may be willing to embark on, while other contributors stated that the market remains tilted in favour of lessees, with some new-gen aircraft being offered to airlines with "less-than-stellar" credit ratings.
Despite the relative stability of prices and lease rates for new-gen aircraft, some contributors stated that deals are being made with start-up airlines and riskier credits, which may be pushing MLRs up near term, riding on summer season expectations.


Commentary and analysis: New generation aircraft see stable prices, marginally lower lease rates

For new generation aircraft, prices have increased versus the 1st Edition of the APB, while Monthly Lease Rates (MLRs) for the neo are up, as the return of the MAX is still impacted by a long inventory build and from recent order cancellations from lessors CALC and CDB Aviation.
Several APB contributors have observed that access to travel by air in summer 2021 remains uncertain, and consequently, asset prices could be impacted as countries face new outbreaks, issues with vaccination programmes and hesitancy to develop clear border management policies that would allow travel to recommence during the northern hemisphere's summer season.
Despite the hesitant outlook, a continuing trend was shared by the market – younger, new-generation aircraft are favoured by both carriers and lessors, allowing prices to remain relatively unchanged for these assets over the last few months.
In addition to the allure of new technology aircraft, the market sees creditworthy lessees are increasingly preferred, with some airlines noting that lessors seeking cash flows and adherence to maintenance programs will "knock on their doors asking if SLBs can be done, albeit with select assets and credits only". Airlines have said that being a good credit and operating a liquid aircraft type had "pushed good offers" their way.
Several contributors pointed out that many airlines looking for aircraft were being flooded with favorable bids from lessors, a trend highlighted by the latest bid evaluation report published by PIA, which recently received 128 bids against a request for eight NB aircraft, 'shortlisting' 49 bids, including offers of Neo, MAX and young A320s – more detail on Ishka Insights.
All around the market, contracts are being negotiated with power by the hour (PBH) terms, with several contributors mentioning that PBH terms are initially being set from three to 18-months. After that period, terms return to a monthly lease rate.
Many of the contributors to the APB commented on the significant shifts occurring throughout the quarter which may impact market prices, including the HNA bankruptcy announcement, a substantial wave of aircraft being remarketed, and the continuation of fleet restructuring processes.
Mentioned by many to the APB, impairment charges posted by lessors and airlines in their Q4 2020 results could lead to some trading being restarted, especially for older narrowbodies. While some contributors saw impairments as a driver to jump-starting trading, others stated that lessors and airlines may prefer to soften the charges brought by impairments and post losses over a longer period, which will see aircraft owners waiting for the market to pick up to then resume trading and thus avoid distressed selling.
With oversupply in the market, monthly lease rates (MLRs) across ages and asset types have come down. Several contributors observed that some Asian based lessors are pushing lease rates down while some larger lessors are accepting some weaker lessees on their portfolios.
One comment shared is that while there is cash in the market, especially equity, some investors remain reluctant to enter the market now, as the demand environment is shifting, with significant oversupply still in the market.
The Ishka Aircraft Pricing Benchmark aims at collecting (anonymously) the market's view every two months. Ishka asks market makers, including buyers, sellers and financiers (including lessors, airlines, investors, aviation banks, asset managers, part-out companies, and advisors) their views on the market's pricing and lease rates, and what they see at the low end of pricing and at the high end. Ishka simply collects and report on the prices the market sees, with no complex methodologies behind the numbers. These number may differ from Ishka's appraisal numbers.
For any further queries please email Daniel Dias ([email protected]) and Eva Karagianni ([email protected]).
Historical related reports:

Ishka's Aircraft Pricing Benchmark: Twin-aisles, a battered market, with few green shoots.
Ishka's Aircraft Pricing Benchmark: A320neo and MAX prices stay firm