Mid-teenage narrowbodies see falling demand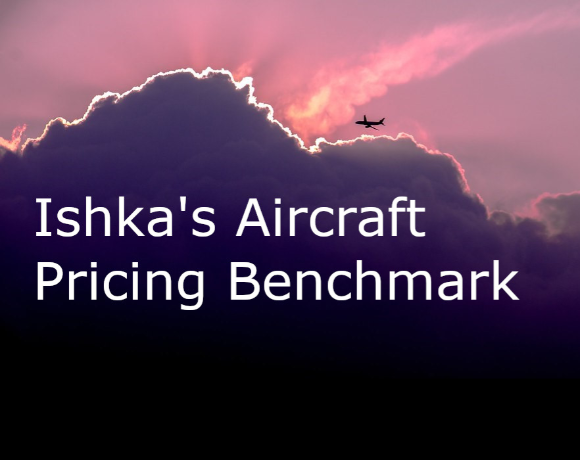 Mid-teenage narrowbodies are continuing to see muted demand by new operators, with the market blaming competitive pricing on younger vintages for a decline in interest for 16-year-old classics. For encumbered 2005-vintage Airbus A320ceos and Boeing 737-800s, prices have been hovering around $10 million to $11 million. The average pricing gap between the two types has narrowed to only $0.3 million compared to nearly $1 million (in favour of the 737) just two quarters ago.
According to Ishka's Pricing Benchmark, average monthly lease rates (MLR) for an encumbered 737-800 have seen a reduction of 18.2% from Q1 2021 to Q2 2021. In the latest quarter, the higher end came down from $200k per month to $140k per month, while the lower end has remained stable at around $100k per month. In the meantime, there has been a slight increase in encumbered MLRs for A320ceos, which are now moving at around $129k per month on average. Separately, there has been a slight decrease for unencumbered B737-800 MLRs, which are now at $123k per month on average, again narrowing the gap between those two types.
The average price for an encumbered 16-year-old A320ceo has risen by around 4% from Q1 2021 to Q2 2021, while for an equivalent B737-800 it has fallen by around 7% in the same period. Although the average price of an A320ceo has gone up versus Q1 2021, at least one contributor shared they were not interested in 16-year-old aircraft, as the market currently allows them to acquire younger aircraft at better prices and conditions.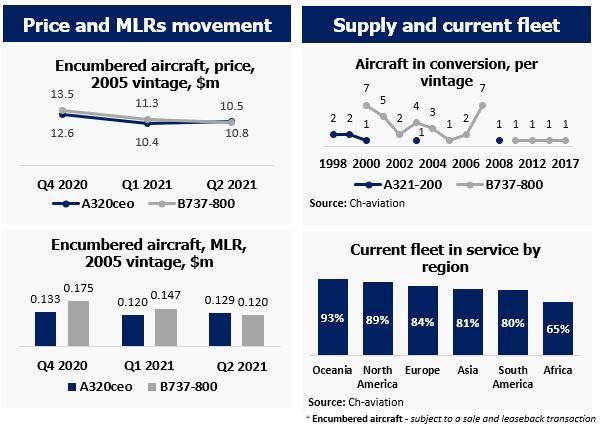 The Ishka Aircraft Pricing Benchmark (APB) aims at (anonymously) collecting the market's view every two months. Ishka asks market makers, including buyers, sellers and financiers (lessors, airlines, investors, aviation banks, asset managers, part-out companies, and advisors), their view on the market's pricing and lease rates, and what they see at the two ends of the pricing spectrum. Ishka simply collects and reports on the prices the market sees, with no complex methodologies behind the numbers.
Low A320ceo conversion appeal, A321 gaining momentum
The price range for a 16-year-old A320ceo has moved from a $7 million to $15 million spread in Q1 2021 to $10 million to $11.5 million in Q2 2021, with encumbered prices posted within a narrow range. The market stated that lessors, airlines and remarketers are currently testing prices, putting out portfolios and sole aircraft to understand where the market currently stands.
On the lease rate side, there has been some fluctuation in A320 encumbered lease rates which are now slightly higher in Q2 2021 at $129k per month compared to $120k per month in Q1 2021. Moreover, MLRs continue to be affected by the supply in the market, with at least one contributor stating that some airlines are receiving hundreds of bids in an RFP to lease A320 aircraft.
Some contributors have questioned if there are currently too many teardowns, as this could oversupply the parts market.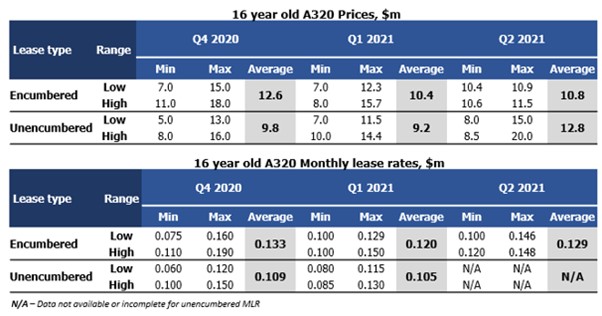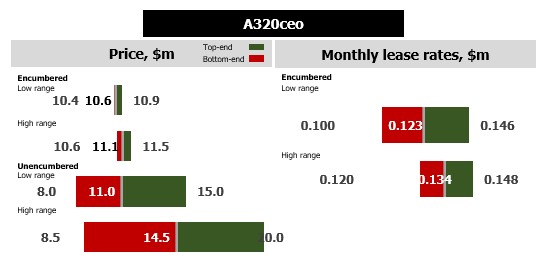 B737-800 still a conversion favourite as feedstock prices stay low
The price range for a 16-year-old B737-800 has narrowed from $7 million to $15.7 million in Q1 2021 to $10 million to $11.5 million in Q2 2021, a possible sign of the market settling into a narrower price window.
With respect to average encumbered MLRs, as noted earlier they have declined by 18.2% from Q1 2021 to Q2 2021: the higher end coming down from $200k per month to $140k per month, while the low end remains stable at around an average of $100k per month. Unencumbered aircraft MLRs are also stable at around an average of $120k per month, as the high-end of the price range has come down.
There is, however, a buoyant market for freighter conversions of this type which may be driving prices to a lower level – buyers looking to convert are seeking the lowest purchase prices to accommodate the conversion cost, and they have a choice of assets for sale.
Another signal of conversion market strength is that Israel Aerospace Industries (IAI) conversion sites are reportedly fully booked for the next 36 months. BBAM, which has 20 737s without operators that average 13 years (three older than 16), also recently ordered 12 more conversions. For a deep-dive on the current freighter conversion market, see Insight: 'Ishka's guide to popular freighter conversion programmes'.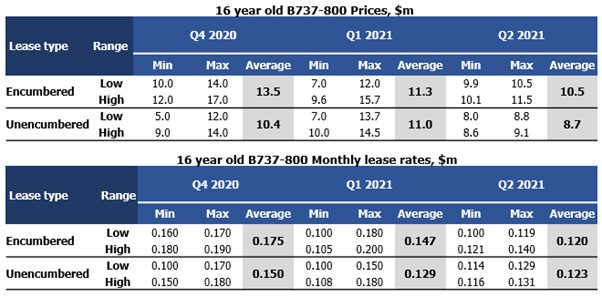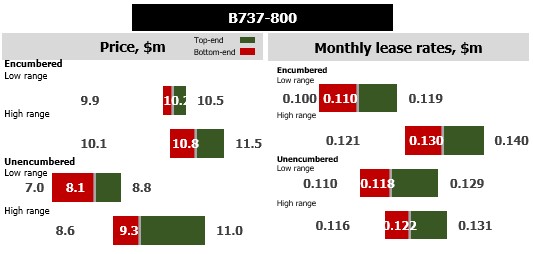 The Ishka View
Although ongoing interest in converting 2005-vintage 737 NGs is helping sustain some demand, the market is still oversupplied and it is very difficult to obtain a conversion slot, with some programmes reportedly fully booked for the next 36 months. Despite a strong demand for conversions, the expected increase in belly cargo capacity as air traffic recovers poses a risk to cargo yields and the demand for cargo aircraft.
There is still a lot of pain and price volatility to be felt in the mid-life narrowbody market due to a large supply of younger 737 NGs as its replacement, the 737 MAX, gets ungrounded in India and in China, where the local aviation safety authority (CAAC) is expected to take a decision shortly. Many MAX operators will wean off the NG as the MAX is recertified.
On top of an increasing 737 NG pool, the Delta variant is currently ripping through some of the world's largest air travel markets, forcing more A320ceos to be parked, especially in Asia Pacific. Increasing numbers of parked A320ceos could lead to demand for the asset type further softening.